Westwood Holdings Group (NYSE:WHG) announced its quarterly earnings data on Thursday. The asset manager reported $0.74 EPS for the quarter, reports. Westwood Holdings Group had a net margin of 18.84% and a return on equity of 18.23%.
Shares of Westwood Holdings Group (NYSE WHG) traded down $2.99 during trading on Thursday, reaching $60.55. 16,966 shares of the company's stock were exchanged, compared to its average volume of 26,317. The stock has a market cap of $566.74, a P/E ratio of 20.39 and a beta of 1.49. Westwood Holdings Group has a 52 week low of $51.41 and a 52 week high of $71.00.
In other Westwood Holdings Group news, CIO Mark Freeman sold 4,500 shares of the company's stock in a transaction on Friday, December 15th. The shares were sold at an average price of $65.06, for a total transaction of $292,770.00. Following the completion of the transaction, the executive now owns 64,250 shares in the company, valued at approximately $4,180,105. The sale was disclosed in a legal filing with the SEC, which can be accessed through this link. Also, General Counsel Julie Kramer Gerron sold 2,013 shares of the company's stock in a transaction on Tuesday, January 16th. The stock was sold at an average price of $68.41, for a total transaction of $137,709.33. Following the transaction, the general counsel now owns 28,131 shares of the company's stock, valued at approximately $1,924,441.71. The disclosure for this sale can be found here. In the last 90 days, insiders have sold 12,013 shares of company stock valued at $800,297. 9.60% of the stock is owned by insiders.
COPYRIGHT VIOLATION WARNING: This news story was originally published by American Banking News and is owned by of American Banking News. If you are viewing this news story on another website, it was illegally stolen and republished in violation of United States & international trademark and copyright law. The legal version of this news story can be viewed at https://www.americanbankingnews.com/2018/02/08/westwood-holdings-group-whg-announces-earnings-results.html.
About Westwood Holdings Group
Westwood Holdings Group, Inc (Westwood) is a holding company. The Company operates through two segments: Advisory and Trust. The Company, through its subsidiaries, manages investment assets and provides services for its clients. Its subsidiaries include Westwood Management Corp. and Westwood Advisors, LLC (together, Westwood Management), Westwood International Advisors Inc (Westwood International) and Westwood Trust.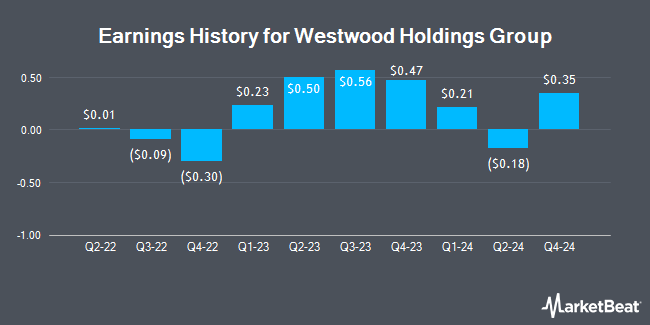 Receive News & Ratings for Westwood Holdings Group Daily - Enter your email address below to receive a concise daily summary of the latest news and analysts' ratings for Westwood Holdings Group and related companies with MarketBeat.com's FREE daily email newsletter.