Adient PLC (NYSE:ADNT) Director Frederick A. Henderson purchased 4,000 shares of Adient stock in a transaction on Thursday, February 8th. The stock was bought at an average price of $61.78 per share, for a total transaction of $247,120.00. Following the transaction, the director now directly owns 5,715 shares in the company, valued at approximately $353,072.70. The purchase was disclosed in a filing with the SEC, which is accessible through this link.
Shares of Adient PLC (NYSE ADNT) traded down $0.08 during trading on Friday, hitting $60.70. The company had a trading volume of 1,652,576 shares, compared to its average volume of 1,828,631. Adient PLC has a 52 week low of $59.10 and a 52 week high of $86.42. The company has a current ratio of 1.02, a quick ratio of 0.83 and a debt-to-equity ratio of 0.78. The company has a market cap of $5,540.00 and a price-to-earnings ratio of 11.06.
Adient (NYSE:ADNT) last announced its earnings results on Monday, January 29th. The company reported $1.06 EPS for the quarter, missing the consensus estimate of $1.85 by ($0.79). Adient had a net margin of 3.19% and a return on equity of 18.72%. The business had revenue of $4.20 billion for the quarter, compared to the consensus estimate of $4.26 billion. During the same quarter in the previous year, the company earned $2.12 EPS. The firm's revenue for the quarter was up 4.4% on a year-over-year basis. analysts predict that Adient PLC will post 7.51 earnings per share for the current fiscal year.
ADNT has been the topic of several research analyst reports.
ValuEngine
lowered Adient from a "strong-buy" rating to a "buy" rating in a research report on Friday, February 2nd. Morgan Stanley cut their target price on Adient from $89.00 to $75.00 and set an "overweight" rating on the stock in a research report on Thursday, February 1st. Buckingham Research cut their target price on Adient from $74.00 to $67.00 and set a "neutral" rating on the stock in a research report on Wednesday, January 31st. Barclays cut their target price on Adient from $71.00 to $69.00 and set an "equal weight" rating on the stock in a research report on Tuesday, January 30th. Finally, Guggenheim set a $64.00 target price on Adient and gave the company a "hold" rating in a research report on Tuesday, January 30th. Three equities research analysts have rated the stock with a sell rating, six have issued a hold rating and four have issued a buy rating to the company. The stock currently has a consensus rating of "Hold" and an average price target of $72.09.
TRADEMARK VIOLATION WARNING: This piece of content was first posted by American Banking News and is owned by of American Banking News. If you are accessing this piece of content on another site, it was illegally copied and reposted in violation of U.S. and international trademark and copyright legislation. The correct version of this piece of content can be accessed at https://www.americanbankingnews.com/2018/02/09/adient-plc-adnt-director-acquires-247120-00-in-stock.html.
Adient Company Profile
Adient plc, formerly Adient Limited, is an automotive seating supplier. The Company designs, manufactures and markets a range of seating systems and components for passenger cars, commercial vehicles, and light trucks, including vans, pick-up trucks, and sport/crossover utility vehicles. The Company operates through two segments: Seating and Interiors.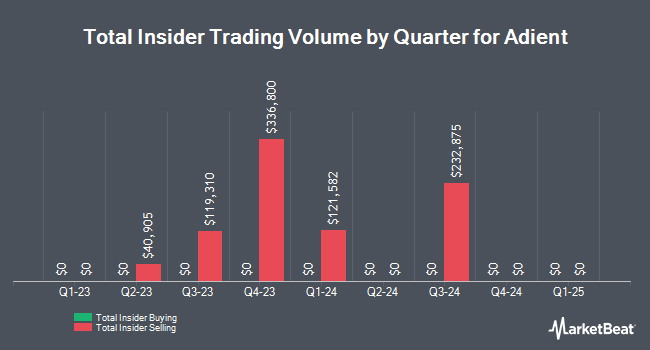 Receive News & Ratings for Adient Daily - Enter your email address below to receive a concise daily summary of the latest news and analysts' ratings for Adient and related companies with MarketBeat.com's FREE daily email newsletter.