BCE (TSE:BCE) (NYSE:BCE) had its price objective lowered by stock analysts at TD Securities from C$59.00 to C$58.00 in a research report issued on Friday. TD Securities' price target suggests a potential upside of 3.81% from the stock's previous close.
Other equities research analysts have also issued reports about the company. JPMorgan Chase & Co. raised their price objective on BCE from C$65.00 to C$68.00 in a research note on Monday, November 6th. Citigroup increased their target price on BCE from C$65.00 to C$66.00 in a report on Friday, November 3rd. Desjardins increased their price objective on BCE from C$65.00 to C$66.00 in a report on Friday, November 3rd. Barclays increased their price objective on BCE from C$64.00 to C$65.00 in a report on Friday, November 3rd. Finally, National Bank Financial increased their target price on shares of BCE from C$61.00 to C$64.00 and gave the stock an "outperform" rating in a research report on Friday, November 3rd. Four research analysts have rated the stock with a hold rating and five have given a buy rating to the company. BCE currently has an average rating of "Buy" and an average price target of C$62.25.
Shares of BCE (BCE) traded down C$0.36 during midday trading on Friday, reaching C$55.87. The company's stock had a trading volume of 1,947,227 shares, compared to its average volume of 1,764,836. The company has a market cap of $50,180.00, a price-to-earnings ratio of 17.24 and a beta of -0.08. BCE has a 52-week low of C$54.44 and a 52-week high of C$63.00.
BCE (TSE:BCE) (NYSE:BCE) last released its quarterly earnings data on Thursday, February 8th. The company reported C$0.76 earnings per share for the quarter, topping the consensus estimate of C$0.74 by C$0.02. BCE had a return on equity of 20.55% and a net margin of 14.39%. During the same quarter last year, the firm posted $0.62 earnings per share.
COPYRIGHT VIOLATION WARNING: "BCE (BCE) Price Target Cut to C$58.00" was reported by American Banking News and is the property of of American Banking News. If you are reading this news story on another domain, it was illegally copied and republished in violation of United States and international trademark & copyright law. The correct version of this news story can be read at https://www.americanbankingnews.com/2018/02/09/bce-bce-price-target-cut-to-c58-00.html.
About BCE
BCE Inc is a communications company. The Company's segments include Bell Wireless, Bell Wireline and Bell Media. Its Bell Wireless segment provides wireless voice and data communications products and services to its residential, small and medium-sized business and large enterprise customers across Canada.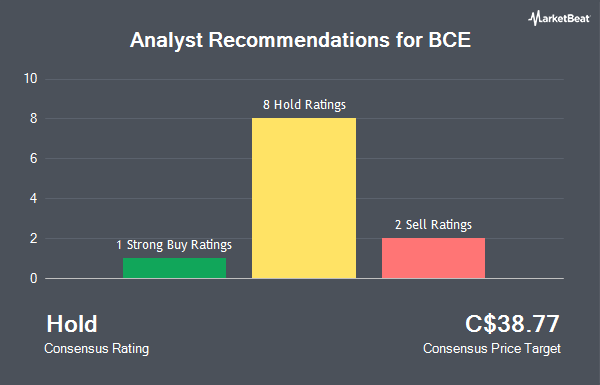 Receive News & Ratings for BCE Daily - Enter your email address below to receive a concise daily summary of the latest news and analysts' ratings for BCE and related companies with MarketBeat.com's FREE daily email newsletter.