FBL Financial Group (NYSE:FFG) released its quarterly earnings results on Thursday. The financial services provider reported $0.99 earnings per share for the quarter, missing the consensus estimate of $1.04 by ($0.05), Bloomberg Earnings reports. FBL Financial Group had a net margin of 15.30% and a return on equity of 8.93%.
FBL Financial Group (NYSE:FFG) traded down $0.20 during midday trading on Friday, hitting $66.05. The stock had a trading volume of 1,038 shares, compared to its average volume of 16,532. The company has a market cap of $1,726.61, a PE ratio of 14.76 and a beta of 0.86. The company has a debt-to-equity ratio of 0.08, a current ratio of 0.03 and a quick ratio of 0.03. FBL Financial Group has a 12-month low of $59.75 and a 12-month high of $79.70.
Several research firms have recently weighed in on FFG. Zacks Investment Research raised FBL Financial Group from a "hold" rating to a "strong-buy" rating and set a $83.00 price target on the stock in a report on Friday, January 19th. ValuEngine raised FBL Financial Group from a "hold" rating to a "buy" rating in a report on Friday, December 1st.
COPYRIGHT VIOLATION WARNING: This piece was first published by American Banking News and is the sole property of of American Banking News. If you are reading this piece on another site, it was copied illegally and reposted in violation of international copyright law. The correct version of this piece can be viewed at https://www.americanbankingnews.com/2018/02/09/fbl-financial-group-ffg-releases-quarterly-earnings-results-misses-estimates-by-0-05-eps.html.
FBL Financial Group Company Profile
FBL Financial Group, Inc sells individual life insurance and annuity products under the brand name of Farm Bureau Financial Services. The Company's segments are Annuity Segment, which sells a variety of traditional annuity products; Life Insurance Segment, which sells a range of traditional and universal life insurance products, and Corporate and Other segment, which provides various support operations, corporate capital and other product lines.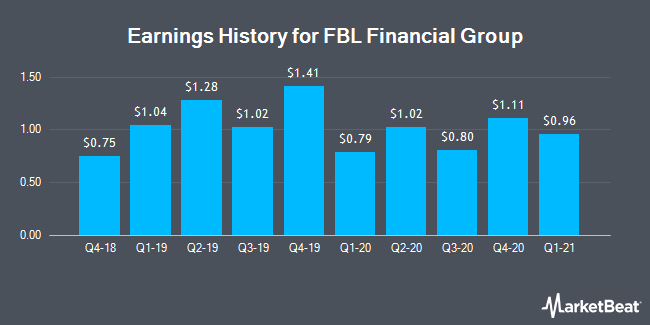 Receive News & Ratings for FBL Financial Group Daily - Enter your email address below to receive a concise daily summary of the latest news and analysts' ratings for FBL Financial Group and related companies with MarketBeat.com's FREE daily email newsletter.