Shares of NEX Group PLC (LON:NXG) have been assigned an average rating of "Hold" from the ten analysts that are covering the company, Marketbeat.com reports. One analyst has rated the stock with a sell rating, six have assigned a hold rating and three have assigned a buy rating to the company. The average 1-year target price among analysts that have issued a report on the stock in the last year is GBX 653.63 ($9.16).
NXG has been the subject of several research reports. Macquarie reaffirmed a "neutral" rating and set a GBX 645 ($9.04) price target on shares of NEX Group in a report on Friday, October 13th. Shore Capital reaffirmed a "sell" rating on shares of NEX Group in a report on Monday, October 16th. Liberum Capital cut their price target on NEX Group from GBX 638 ($8.95) to GBX 629 ($8.82) and set a "hold" rating for the company in a report on Friday, November 3rd. JPMorgan Chase & Co. initiated coverage on NEX Group in a report on Tuesday, November 14th. They set a "neutral" rating and a GBX 650 ($9.11) price target for the company. Finally, Societe Generale reaffirmed a "hold" rating and set a GBX 640 ($8.97) price target on shares of NEX Group in a report on Friday, November 17th.
Shares of NEX Group (LON NXG) opened at GBX 646 ($9.06) on Friday. NEX Group has a twelve month low of GBX 5.63 ($0.08) and a twelve month high of GBX 690 ($9.67). The stock has a market capitalization of $2,450.00 and a price-to-earnings ratio of 1,404.35.
The company also recently disclosed a dividend, which was paid on Friday, February 2nd. Shareholders of record on Thursday, December 21st were given a dividend of GBX 3.50 ($0.05) per share. This represents a yield of 0.62%. The ex-dividend date was Thursday, December 21st.
In other news, insider Robert Standing acquired 10,000 shares of the stock in a transaction on Tuesday, November 21st. The shares were purchased at an average price of GBX 584 ($8.19) per share, for a total transaction of £58,400 ($81,884.46).
COPYRIGHT VIOLATION NOTICE: This story was posted by American Banking News and is the property of of American Banking News. If you are reading this story on another website, it was illegally copied and republished in violation of US and international copyright and trademark laws. The original version of this story can be accessed at https://www.americanbankingnews.com/2018/02/10/nex-group-plc-nxg-given-consensus-recommendation-of-hold-by-brokerages.html.
About NEX Group
NEX Group plc is a technology-based service company. The Company is engaged in electronic trading business, offering a diverse portfolio of products and services in the over-the-counter (OTC) markets. The Company's segments include NEX Markets, which includes EBS BrokerTec and NEX Exchange (formerly the ICAP Securities and Derivatives Exchange (ISDX)); NEX Optimisation, which includes PTRI and Euclid Opportunities, and Group, which includes all residual income from shipping (forward revenue), and central costs not attributable to the business units.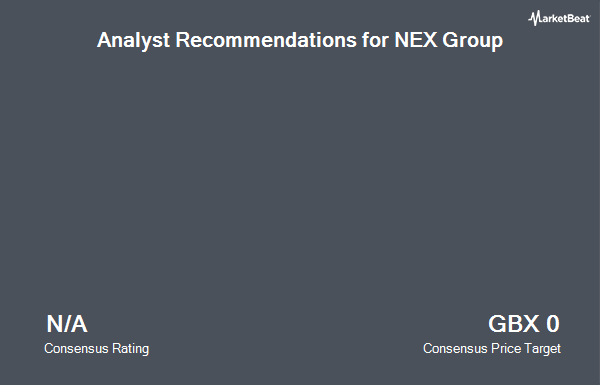 Receive News & Ratings for NEX Group Daily - Enter your email address below to receive a concise daily summary of the latest news and analysts' ratings for NEX Group and related companies with MarketBeat.com's FREE daily email newsletter.