Allianz (OTCMKTS:AZSEY) was downgraded by stock analysts at Jefferies Group from a "buy" rating to a "hold" rating in a research report issued on Thursday, MarketBeat Ratings reports. Jefferies Group also issued estimates for Allianz's FY2017 earnings at $1.92 EPS, FY2018 earnings at $2.13 EPS and FY2019 earnings at $2.29 EPS.
Several other research analysts also recently weighed in on the company. DZ Bank reaffirmed a "buy" rating on shares of Allianz in a research note on Friday, November 10th. Deutsche Bank reissued a "buy" rating on shares of Allianz in a research note on Monday, November 6th. ValuEngine downgraded Allianz from a "strong-buy" rating to a "buy" rating in a research note on Wednesday, December 20th. Zacks Investment Research raised Allianz from a "hold" rating to a "buy" rating and set a $26.00 price objective for the company in a research note on Friday, December 15th. Finally, Barclays raised Allianz from an "underweight" rating to a "hold" rating in a research note on Monday, December 11th. Eight investment analysts have rated the stock with a hold rating and five have given a buy rating to the stock. Allianz presently has an average rating of "Hold" and a consensus target price of $28.00.
Shares of Allianz (AZSEY) traded down $0.06 during mid-day trading on Thursday, hitting $22.89. The stock had a trading volume of 278,717 shares, compared to its average volume of 269,909. The stock has a market capitalization of $100,773.00, a price-to-earnings ratio of 13.16 and a beta of 1.18. Allianz has a 1-year low of $16.59 and a 1-year high of $25.65.
Allianz (OTCMKTS:AZSEY) last released its quarterly earnings data on Thursday, November 9th. The financial services provider reported $0.41 EPS for the quarter. Allianz had a return on equity of 10.35% and a net margin of 5.72%. equities analysts anticipate that Allianz will post 1.92 earnings per share for the current year.
TRADEMARK VIOLATION NOTICE: "Allianz (AZSEY) Cut to Hold at Jefferies Group" was published by American Banking News and is the sole property of of American Banking News. If you are viewing this article on another website, it was stolen and republished in violation of U.S. & international copyright and trademark legislation. The legal version of this article can be accessed at https://www.americanbankingnews.com/2018/02/11/allianz-azsey-cut-to-hold-at-jefferies-group.html.
Allianz Company Profile
Allianz SE is a financial service company. The Company is the holding company of the Allianz Group (Allianz SE and its subsidiaries). The Company's segments include Property-Casualty, Life/Health, Asset Management, and Corporate and Other. The Company provides a range of reinsurance coverage, primarily to Allianz insurance entities, as well as to third-party customers.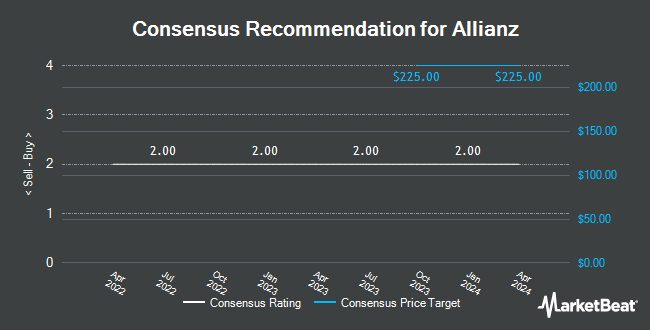 Receive News & Ratings for Allianz Daily - Enter your email address below to receive a concise daily summary of the latest news and analysts' ratings for Allianz and related companies with MarketBeat.com's FREE daily email newsletter.