AstraZeneca (LON:AZN) had its target price increased by investment analysts at Berenberg Bank from GBX 5,800 ($81.32) to GBX 6,000 ($84.13) in a note issued to investors on Thursday. The brokerage currently has a "buy" rating on the biopharmaceutical company's stock. Berenberg Bank's price objective indicates a potential upside of 25.79% from the company's current price.
A number of other equities research analysts have also commented on the company. Goldman Sachs Group restated a "sell" rating and set a GBX 3,800 ($53.28) price target on shares of AstraZeneca in a research report on Tuesday, October 17th. Barclays restated an "overweight" rating and set a GBX 6,300 ($88.33) price target on shares of AstraZeneca in a research report on Monday, December 18th. Credit Suisse Group upgraded AstraZeneca from a "neutral" rating to an "outperform" rating and increased their price target for the stock from GBX 4,800 ($67.30) to GBX 5,800 ($81.32) in a research report on Monday, October 16th. Deutsche Bank increased their price target on AstraZeneca from GBX 5,600 ($78.52) to GBX 5,700 ($79.92) and gave the stock a "buy" rating in a research report on Tuesday, December 5th. Finally, Morgan Stanley set a GBX 4,700 ($65.90) price target on AstraZeneca and gave the stock a "neutral" rating in a research report on Friday, October 20th. Four investment analysts have rated the stock with a sell rating, seven have assigned a hold rating, twelve have issued a buy rating and one has given a strong buy rating to the company. AstraZeneca has an average rating of "Hold" and an average price target of GBX 5,211.65 ($73.07).
AstraZeneca (LON AZN) traded down GBX 75 ($1.05) during midday trading on Thursday, reaching GBX 4,770 ($66.88). The company had a trading volume of 2,790,000 shares, compared to its average volume of 2,020,000. The company has a market cap of $60,400.00 and a price-to-earnings ratio of 2,805.88. AstraZeneca has a 1-year low of GBX 4,260 ($59.73) and a 1-year high of GBX 5,520 ($77.40).
In related news, insider Philip A. J. Broadley purchased 415 shares of the business's stock in a transaction dated Friday, February 2nd. The shares were bought at an average price of GBX 4,846 ($67.95) per share, with a total value of £20,110.90 ($28,198.12).
ILLEGAL ACTIVITY WARNING: "AstraZeneca (AZN) Price Target Increased to GBX 6,000 by Analysts at Berenberg Bank" was first reported by American Banking News and is owned by of American Banking News. If you are accessing this story on another site, it was illegally stolen and reposted in violation of United States & international copyright laws. The legal version of this story can be accessed at https://www.americanbankingnews.com/2018/02/11/astrazeneca-azn-price-target-increased-to-gbx-6000-by-analysts-at-berenberg-bank.html.
About AstraZeneca
AstraZeneca PLC (AstraZeneca) is a biopharmaceutical company. The Company focuses on discovery and development of products, which are then manufactured, marketed and sold. The Company focuses on three main therapy areas: Oncology, Cardiovascular & Metabolic Disease (CVMD) and Respiratory, while selectively pursuing therapies in Autoimmunity, Infection and Neuroscience.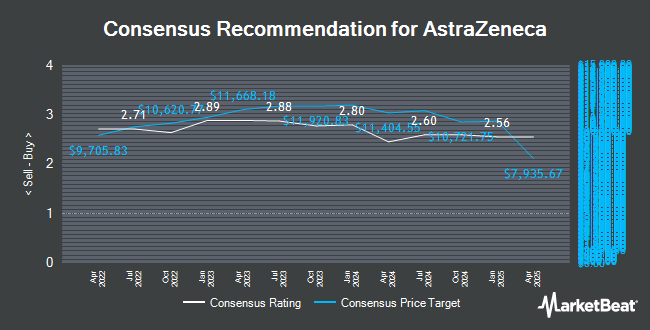 Receive News & Ratings for AstraZeneca Daily - Enter your email address below to receive a concise daily summary of the latest news and analysts' ratings for AstraZeneca and related companies with MarketBeat.com's FREE daily email newsletter.