Aberdeen Asia-Pacific Income Fund, Inc. (NYSEAMERICAN:FAX) announced a monthly dividend on Monday, February 12th, Wall Street Journal reports. Shareholders of record on Tuesday, February 20th will be given a dividend of 0.035 per share by the investment management company on Tuesday, February 27th. This represents a $0.42 dividend on an annualized basis and a yield of 8.70%. The ex-dividend date of this dividend is Friday, February 16th.
Aberdeen Asia-Pacific Income Fund (FAX) traded up $0.03 during trading on Monday, reaching $4.83. The company's stock had a trading volume of 479,932 shares, compared to its average volume of 791,691. Aberdeen Asia-Pacific Income Fund has a 12 month low of $4.73 and a 12 month high of $5.29. The firm has a market capitalization of $1,210.00, a P/E ratio of 30.19 and a beta of 0.51.
COPYRIGHT VIOLATION NOTICE: This story was originally posted by American Banking News and is owned by of American Banking News. If you are accessing this story on another site, it was stolen and republished in violation of U.S. & international copyright legislation. The legal version of this story can be read at https://www.americanbankingnews.com/2018/02/12/aberdeen-asia-pacific-income-fund-inc-fax-declares-0-04-monthly-dividend.html.
Aberdeen Asia-Pacific Income Fund Company Profile
Aberdeen Asia-Pacific Income Fund, Inc is a non-diversified, closed-end management investment company. The Fund's principal investment objective is to seek current income. The Fund may also achieve incidental capital appreciation. To achieve its investment objectives, the Fund invests approximately 80% of its net assets, plus the amount of any borrowings for investment purposes, in Asian debt securities, Australian debt securities and New Zealand debt securities.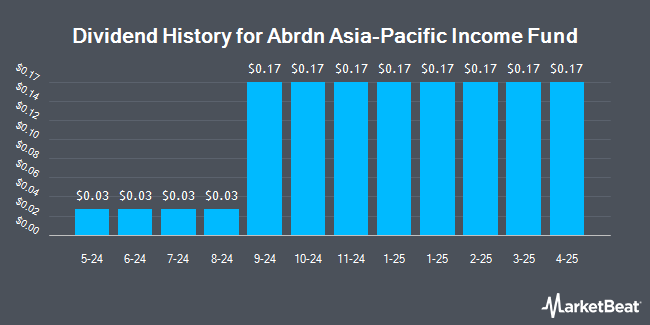 Receive News & Ratings for Aberdeen Asia-Pacific Income Fund Daily - Enter your email address below to receive a concise daily summary of the latest news and analysts' ratings for Aberdeen Asia-Pacific Income Fund and related companies with MarketBeat.com's FREE daily email newsletter.