Central Federal (NASDAQ:CFBK) is scheduled to issue its quarterly earnings data on Monday, February 19th.
Shares of Central Federal (CFBK) opened at $2.44 on Monday. The company has a debt-to-equity ratio of 0.60, a current ratio of 1.11 and a quick ratio of 1.10. Central Federal has a fifty-two week low of $1.76 and a fifty-two week high of $2.75. The firm has a market cap of $56.26, a PE ratio of 34.86 and a beta of 0.12.
Separately, ValuEngine lowered shares of Central Federal from a "buy" rating to a "hold" rating in a research note on Friday, December 1st.
WARNING: This report was posted by American Banking News and is the property of of American Banking News. If you are viewing this report on another website, it was stolen and republished in violation of international copyright and trademark legislation. The correct version of this report can be accessed at https://www.americanbankingnews.com/2018/02/12/central-federal-cfbk-to-release-quarterly-earnings-on-monday.html.
About Central Federal
Central Federal Corporation is a holding company of CFBank. CFBank is a national bank. The Company attracts retail and business deposits from the general public and use the deposits, together with borrowings and other funds, primarily to originate commercial and commercial real estate loans, single-family and multi-family residential mortgage loans and home equity lines of credit.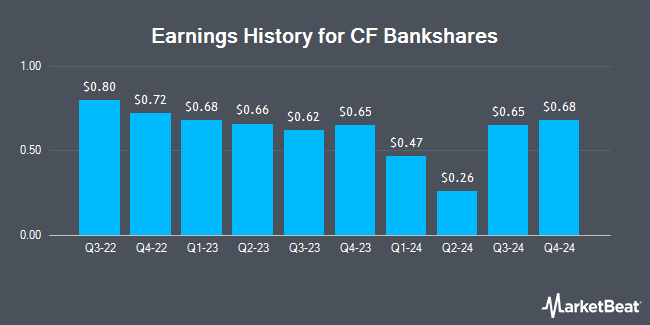 Receive News & Ratings for Central Federal Daily - Enter your email address below to receive a concise daily summary of the latest news and analysts' ratings for Central Federal and related companies with MarketBeat.com's FREE daily email newsletter.