Cornerstone Total Return Fund Inc (NYSEAMERICAN:CRF) announced a monthly dividend on Monday, February 12th, Wall Street Journal reports. Stockholders of record on Friday, June 15th will be paid a dividend of 0.2301 per share by the investment management company on Friday, June 29th. This represents a $2.76 annualized dividend and a dividend yield of 18.07%. The ex-dividend date of this dividend is Thursday, June 14th.
Shares of Cornerstone Total Return Fund (CRF) traded up $0.38 on Monday, hitting $15.28. 324,877 shares of the stock traded hands, compared to its average volume of 375,175. Cornerstone Total Return Fund has a 1-year low of $13.62 and a 1-year high of $16.98.
COPYRIGHT VIOLATION NOTICE: This report was originally reported by American Banking News and is owned by of American Banking News. If you are accessing this report on another publication, it was illegally copied and republished in violation of U.S. & international copyright law. The original version of this report can be read at https://www.americanbankingnews.com/2018/02/12/cornerstone-total-return-fund-inc-crf-to-issue-monthly-dividend-of-0-23.html.
Cornerstone Total Return Fund Company Profile
Cornerstone Total Return Fund, Inc is a closed-end, diversified management investment company. The Fund's investment objective is to seek capital appreciation with current income as a secondary objective. The Fund invests in various sectors, such as closed-end funds, information technology, financials, healthcare, consumer discretionary, industrials, energy, consumer staples, materials, telecommunication services, utilities, real estate, exchange-traded funds (ETFs) and others.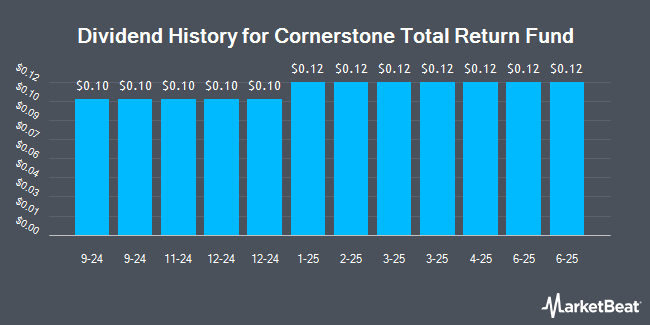 Receive News & Ratings for Cornerstone Total Return Fund Daily - Enter your email address below to receive a concise daily summary of the latest news and analysts' ratings for Cornerstone Total Return Fund and related companies with MarketBeat.com's FREE daily email newsletter.