GlaxoSmithKline plc (LON:GSK) insider Patrick Vallance bought 9 shares of the stock in a transaction that occurred on Friday, February 9th. The shares were bought at an average cost of GBX 1,298 ($18.20) per share, with a total value of £116.82 ($163.80).
Patrick Vallance also recently made the following trade(s):
On Monday, December 18th, Patrick Vallance sold 20,000 shares of GlaxoSmithKline stock. The stock was sold at an average price of GBX 1,310 ($18.37), for a total value of £262,000 ($367,358.38).
Shares of GlaxoSmithKline plc (GSK) traded up GBX 1.60 ($0.02) on Monday, hitting GBX 1,292.60 ($18.12). The stock had a trading volume of 9,162,001 shares, compared to its average volume of 9,480,000. The firm has a market cap of $64,280.00 and a P/E ratio of 4,169.68. GlaxoSmithKline plc has a 12 month low of GBX 1,235.20 ($17.32) and a 12 month high of GBX 1,724.50 ($24.18).
The company also recently announced a dividend, which will be paid on Thursday, April 12th. Stockholders of record on Thursday, February 22nd will be paid a GBX 23 ($0.32) dividend. The ex-dividend date of this dividend is Thursday, February 22nd. This is an increase from GlaxoSmithKline's previous dividend of $19.00. This represents a dividend yield of 1.78%.
A number of analysts have weighed in on GSK shares. Societe Generale reiterated a "sell" rating on shares of GlaxoSmithKline in a report on Thursday, November 9th. Berenberg Bank decreased their price target on GlaxoSmithKline from GBX 1,835 ($25.73) to GBX 1,760 ($24.68) and set a "buy" rating for the company in a report on Thursday, November 2nd. Morgan Stanley set a GBX 1,450 ($20.33) price target on GlaxoSmithKline and gave the stock a "sell" rating in a report on Monday, November 6th. Deutsche Bank set a GBX 1,610 ($22.57) price target on GlaxoSmithKline and gave the stock a "neutral" rating in a report on Friday, October 27th. Finally, Barclays reiterated an "equal weight" rating and set a GBX 1,450 ($20.33) price target on shares of GlaxoSmithKline in a report on Friday, October 27th. Two research analysts have rated the stock with a sell rating, twelve have given a hold rating and nine have given a buy rating to the company. GlaxoSmithKline has an average rating of "Hold" and an average price target of GBX 1,540.45 ($21.60).
TRADEMARK VIOLATION WARNING: "GlaxoSmithKline plc (GSK) Insider Patrick Vallance Purchases 9 Shares" was originally posted by American Banking News and is the sole property of of American Banking News. If you are accessing this report on another domain, it was illegally stolen and reposted in violation of US & international trademark & copyright law. The correct version of this report can be accessed at https://www.americanbankingnews.com/2018/02/12/glaxosmithkline-plc-gsk-insider-patrick-vallance-purchases-9-shares.html.
GlaxoSmithKline Company Profile
GlaxoSmithKline plc is a global healthcare company. The Company operates through three segments: Pharmaceuticals, Vaccines and Consumer Healthcare. The Company focuses on its research across six areas: Respiratory diseases, human immunodeficiency virus (HIV)/infectious diseases, Vaccines, Immuno-inflammation, Oncology and Rare diseases.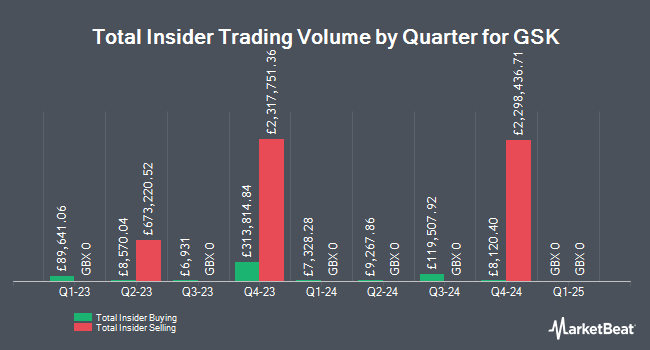 Receive News & Ratings for GlaxoSmithKline Daily - Enter your email address below to receive a concise daily summary of the latest news and analysts' ratings for GlaxoSmithKline and related companies with MarketBeat.com's FREE daily email newsletter.