Oxford Lane Capital Corp (NASDAQ:OXLC) announced a monthly dividend on Monday, February 12th, Wall Street Journal reports. Stockholders of record on Thursday, June 21st will be given a dividend of 0.135 per share by the investment management company on Friday, June 29th. This represents a $1.62 dividend on an annualized basis and a dividend yield of 16.04%. The ex-dividend date is Wednesday, June 20th.
Oxford Lane Capital (NASDAQ:OXLC) traded down $0.11 during trading on Monday, hitting $10.10. 348,038 shares of the stock were exchanged, compared to its average volume of 284,432. Oxford Lane Capital has a fifty-two week low of $9.11 and a fifty-two week high of $11.61. The stock has a market capitalization of $241.78, a price-to-earnings ratio of 7.37 and a beta of 1.01.
Separately, Zacks Investment Research raised shares of Oxford Lane Capital from a "strong sell" rating to a "hold" rating in a report on Tuesday, January 16th.
COPYRIGHT VIOLATION NOTICE: "Oxford Lane Capital Corp (OXLC) Declares $0.14 Monthly Dividend" was originally reported by American Banking News and is owned by of American Banking News. If you are viewing this piece on another site, it was copied illegally and republished in violation of United States and international trademark and copyright laws. The correct version of this piece can be viewed at https://www.americanbankingnews.com/2018/02/12/oxford-lane-capital-corp-oxlc-declares-0-14-monthly-dividend.html.
About Oxford Lane Capital
Oxford Lane Capital Corp. is a non-diversified closed-end management investment company. The Fund's investment objective is to maximize its portfolio's risk adjusted total return and seeks to achieve its investment objective by investing in structured finance investments, specifically collateralized loan obligation (CLO) vehicles, which primarily own senior corporate debt securities.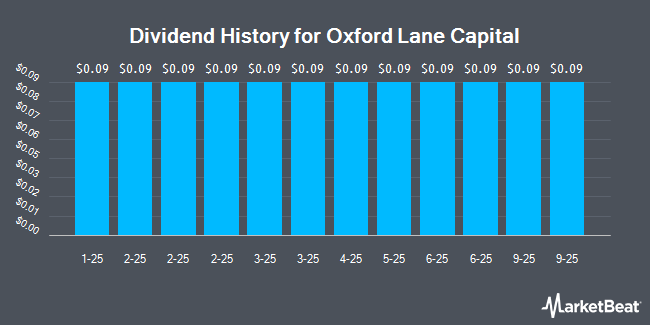 Receive News & Ratings for Oxford Lane Capital Daily - Enter your email address below to receive a concise daily summary of the latest news and analysts' ratings for Oxford Lane Capital and related companies with MarketBeat.com's FREE daily email newsletter.