Wall Street analysts forecast that Regis Co. (NYSE:RGS) will announce sales of $303.40 million for the current fiscal quarter, according to Zacks Investment Research. Two analysts have provided estimates for Regis' earnings. The lowest sales estimate is $298.10 million and the highest is $308.70 million. Regis posted sales of $412.60 million in the same quarter last year, which suggests a negative year-over-year growth rate of 26.5%. The business is scheduled to issue its next earnings report on Thursday, May 3rd.
On average, analysts expect that Regis will report full year sales of $303.40 million for the current fiscal year, with estimates ranging from $1.22 billion to $1.25 billion. For the next year, analysts anticipate that the business will report sales of $1.22 billion per share, with estimates ranging from $1.17 billion to $1.26 billion. Zacks Investment Research's sales calculations are an average based on a survey of analysts that cover Regis.
Regis (NYSE:RGS) last posted its earnings results on Thursday, February 1st. The company reported $0.06 earnings per share for the quarter, topping the Thomson Reuters' consensus estimate of $0.02 by $0.04. The company had revenue of $308.52 million for the quarter, compared to analyst estimates of $316.30 million. Regis had a negative net margin of 0.51% and a positive return on equity of 1.68%.
A number of research analysts recently weighed in on the stock.
Zacks Investment Research
raised shares of Regis from a "sell" rating to a "hold" rating and set a $17.00 target price for the company in a research report on Saturday, February 3rd. KeyCorp assumed coverage on shares of Regis in a research report on Wednesday, December 20th. They issued a "sector weight" rating for the company. Finally, Jefferies Group raised their target price on shares of Regis from $17.00 to $18.00 and gave the company a "buy" rating in a research report on Wednesday, November 1st. Two equities research analysts have rated the stock with a hold rating and two have issued a buy rating to the company. Regis has an average rating of "Buy" and a consensus target price of $17.50.
Regis (RGS) opened at $16.85 on Tuesday. The firm has a market cap of $786.83, a price-to-earnings ratio of 24.42, a P/E/G ratio of 6.03 and a beta of 1.41. Regis has a 12-month low of $9.02 and a 12-month high of $16.95. The company has a debt-to-equity ratio of 0.23, a current ratio of 2.07 and a quick ratio of 1.52.
In other news, Director David Patrick Williams acquired 5,000 shares of the firm's stock in a transaction dated Thursday, February 8th. The stock was bought at an average price of $15.50 per share, with a total value of $77,500.00. Following the transaction, the director now directly owns 96,861 shares in the company, valued at approximately $1,501,345.50. The purchase was disclosed in a filing with the SEC, which is accessible through this hyperlink. 24.00% of the stock is currently owned by company insiders.
Several institutional investors and hedge funds have recently made changes to their positions in RGS. Public Employees Retirement System of Ohio grew its position in shares of Regis by 13.0% in the 2nd quarter. Public Employees Retirement System of Ohio now owns 11,742 shares of the company's stock valued at $121,000 after acquiring an additional 1,353 shares during the period. SG Americas Securities LLC acquired a new stake in shares of Regis during the 3rd quarter worth about $127,000. UBS Asset Management Americas Inc. acquired a new stake in shares of Regis during the 4th quarter worth about $176,000. Teacher Retirement System of Texas acquired a new stake in shares of Regis during the 4th quarter worth about $184,000. Finally, Trexquant Investment LP acquired a new stake in shares of Regis during the 3rd quarter worth about $213,000. 95.27% of the stock is owned by institutional investors.
COPYRIGHT VIOLATION WARNING: "$303.40 Million in Sales Expected for Regis Co. (RGS) This Quarter" was originally published by American Banking News and is the sole property of of American Banking News. If you are accessing this news story on another domain, it was illegally stolen and reposted in violation of U.S. and international trademark and copyright law. The original version of this news story can be read at https://www.americanbankingnews.com/2018/02/13/303-40-million-in-sales-expected-for-regis-co-rgs-this-quarter.html.
Regis Company Profile
Regis Corporation owns, franchises and operates beauty salons. The Company operates through two segments: North American Value and North American Premium. As of June 30, 2016, the Company's North American Value salon operations consisted of 5,784 Company-owned salons and 2,496 franchised salons operating in the United States, Canada and Puerto Rico.
Get a free copy of the Zacks research report on Regis (RGS)
For more information about research offerings from Zacks Investment Research, visit Zacks.com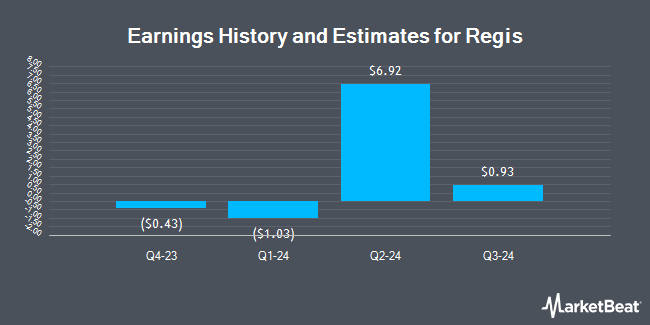 Receive News & Ratings for Regis Daily - Enter your email address below to receive a concise daily summary of the latest news and analysts' ratings for Regis and related companies with MarketBeat.com's FREE daily email newsletter.