Atomera (NASDAQ:ATOM) released its quarterly earnings results on Tuesday. The technology company reported ($0.21) earnings per share for the quarter, Bloomberg Earnings reports.
Atomera (ATOM) traded up $0.32 on Tuesday, reaching $5.43. 46,832 shares of the company were exchanged, compared to its average volume of 43,894. The firm has a market cap of $66.64, a price-to-earnings ratio of -4.48 and a beta of 2.86. Atomera has a 1-year low of $2.45 and a 1-year high of $7.64.
In other news, Director Rolf Stadheim purchased 25,000 shares of the stock in a transaction that occurred on Thursday, December 7th. The stock was acquired at an average cost of $4.22 per share, with a total value of $105,500.00. Following the acquisition, the director now owns 358,831 shares in the company, valued at $1,514,266.82. The acquisition was disclosed in a legal filing with the SEC, which is available at the SEC website. 8.60% of the stock is currently owned by company insiders.
A hedge fund recently raised its stake in Atomera stock. Vanguard Group Inc. grew its stake in shares of Atomera Inc (NASDAQ:ATOM) by 63.2% in the 2nd quarter, according to the company in its most recent 13F filing with the Securities and Exchange Commission (SEC). The institutional investor owned 222,292 shares of the technology company's stock after acquiring an additional 86,101 shares during the period. Vanguard Group Inc.'s holdings in Atomera were worth $958,000 at the end of the most recent quarter. 17.67% of the stock is owned by hedge funds and other institutional investors.
COPYRIGHT VIOLATION NOTICE: This story was published by American Banking News and is the sole property of of American Banking News. If you are accessing this story on another publication, it was copied illegally and reposted in violation of US and international copyright and trademark law. The correct version of this story can be accessed at https://www.americanbankingnews.com/2018/02/13/atomera-atom-issues-earnings-results.html.
About Atomera
Atomera Incorporated, formerly MEARS Technologies, Inc, is a development-stage company. The Company is engaged in the development, commercialization and licensing of processes and technologies for the semiconductor industry. The Company's technology, named Mears Silicon Technology (MST), is a thin film of reengineered silicon, typically 100 to 300 angstroms (or approximately 20 to 60 silicon atomic unit cells) thick.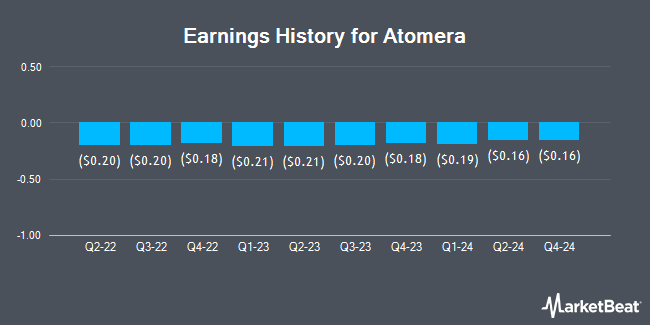 Receive News & Ratings for Atomera Daily - Enter your email address below to receive a concise daily summary of the latest news and analysts' ratings for Atomera and related companies with MarketBeat.com's FREE daily email newsletter.