CyberOptics (NASDAQ:CYBE) will be issuing its quarterly earnings data after the market closes on Tuesday, February 20th. Analysts expect the company to announce earnings of ($0.10) per share for the quarter.
Shares of CyberOptics (NASDAQ:CYBE) opened at $13.75 on Tuesday. CyberOptics has a one year low of $11.35 and a one year high of $39.40. The stock has a market capitalization of $94.89, a P/E ratio of 14.32, a P/E/G ratio of 1.81 and a beta of -0.33.
Separately, Zacks Investment Research raised CyberOptics from a "strong sell" rating to a "hold" rating in a research note on Tuesday, December 5th. Two research analysts have rated the stock with a sell rating and three have issued a buy rating to the company's stock. The company currently has an average rating of "Hold" and an average price target of $18.67.
An institutional investor recently bought a new position in CyberOptics stock. California State Teachers Retirement System bought a new stake in shares of CyberOptics Co. (NASDAQ:CYBE) in the second quarter, according to its most recent disclosure with the Securities and Exchange Commission. The fund bought 12,200 shares of the scientific and technical instruments company's stock, valued at approximately $252,000. California State Teachers Retirement System owned approximately 0.18% of CyberOptics as of its most recent SEC filing. 60.44% of the stock is currently owned by institutional investors.
ILLEGAL ACTIVITY NOTICE: This piece was posted by American Banking News and is owned by of American Banking News. If you are reading this piece on another site, it was stolen and reposted in violation of U.S. and international copyright & trademark legislation. The legal version of this piece can be read at https://www.americanbankingnews.com/2018/02/13/cyberoptics-cybe-set-to-announce-quarterly-earnings-on-tuesday.html.
CyberOptics Company Profile
Cyberoptics Corporation is a developer and manufacturer of sensing technology solutions. The Company's products and services are used in the surface mount technology (SMT), semiconductor and three dimensional (3D) scanning solutions and services markets. Its products are sold into the electronics assembly, dynamic random access memory (DRAM) and flash memory, and semiconductor fabrication capital equipment markets.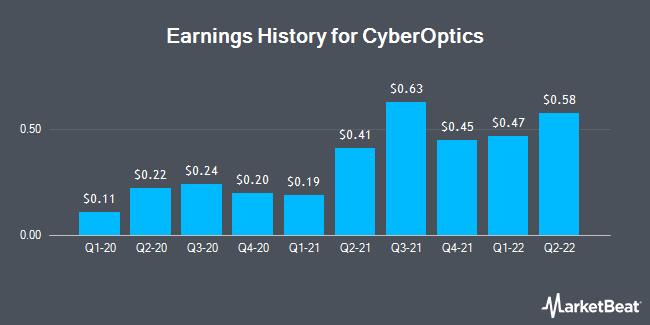 Receive News & Ratings for CyberOptics Daily - Enter your email address below to receive a concise daily summary of the latest news and analysts' ratings for CyberOptics and related companies with MarketBeat.com's FREE daily email newsletter.