Diebold Nixdorf (NYSE:DBD) announced its quarterly earnings data on Monday. The technology company reported $0.40 earnings per share for the quarter, beating the Zacks' consensus estimate of $0.35 by $0.05, RTT News reports. Diebold Nixdorf had a negative net margin of 4.40% and a positive return on equity of 11.39%. The business had revenue of $1.25 billion for the quarter, compared to analyst estimates of $1.24 billion. During the same period last year, the business earned $0.32 EPS. The company's revenue was up .5% on a year-over-year basis.
Diebold Nixdorf (NYSE:DBD) opened at $14.55 on Tuesday. The company has a debt-to-equity ratio of 3.00, a current ratio of 1.47 and a quick ratio of 1.01. The company has a market cap of $1,110.35, a price-to-earnings ratio of -5.39, a P/E/G ratio of 3.52 and a beta of 2.07. Diebold Nixdorf has a 52-week low of $14.30 and a 52-week high of $31.85.
The business also recently announced a quarterly dividend, which will be paid on Friday, March 16th. Investors of record on Monday, February 26th will be given a $0.10 dividend. This represents a $0.40 dividend on an annualized basis and a dividend yield of 2.75%. The ex-dividend date of this dividend is Friday, February 23rd. Diebold Nixdorf's dividend payout ratio (DPR) is -14.81%.
DBD has been the topic of a number of analyst reports. Imperial Capital set a $24.00 price objective on shares of Diebold Nixdorf and gave the company a "hold" rating in a report on Tuesday, October 17th.
Zacks Investment Research
lowered shares of Diebold Nixdorf from a "hold" rating to a "sell" rating in a report on Monday, January 29th. JPMorgan Chase & Co. set a $21.00 price objective on shares of Diebold Nixdorf and gave the company a "buy" rating in a report on Monday. KeyCorp reaffirmed a "hold" rating on shares of Diebold Nixdorf in a research report on Friday, October 20th. Finally, DA Davidson began coverage on shares of Diebold Nixdorf in a research report on Wednesday, February 7th. They issued a "neutral" rating and a $19.00 target price on the stock. Two research analysts have rated the stock with a sell rating, four have issued a hold rating and four have assigned a buy rating to the company's stock. The stock has an average rating of "Hold" and an average price target of $24.60.
In related news, Director Gale S. Fitzgerald bought 4,000 shares of the company's stock in a transaction that occurred on Friday, December 15th. The shares were purchased at an average cost of $16.74 per share, with a total value of $66,960.00. Following the transaction, the director now directly owns 51,603 shares of the company's stock, valued at approximately $863,834.22. The purchase was disclosed in a legal filing with the SEC, which is available at the SEC website. Company insiders own 1.37% of the company's stock.
TRADEMARK VIOLATION NOTICE: This story was reported by American Banking News and is the sole property of of American Banking News. If you are viewing this story on another publication, it was stolen and reposted in violation of U.S. & international copyright & trademark laws. The correct version of this story can be viewed at https://www.americanbankingnews.com/2018/02/13/diebold-nixdorf-dbd-releases-earnings-results-beats-expectations-by-0-05-eps.html.
Diebold Nixdorf Company Profile
Diebold Nixdorf, Incorporated provides connected commerce services, software and technology. The Company's geographic segments include North America (NA), Asia Pacific (AP), Europe, Middle East and Africa (EMEA), and Latin America (LA). These segments sell and service financial self-service (FSS), retail solutions and security systems.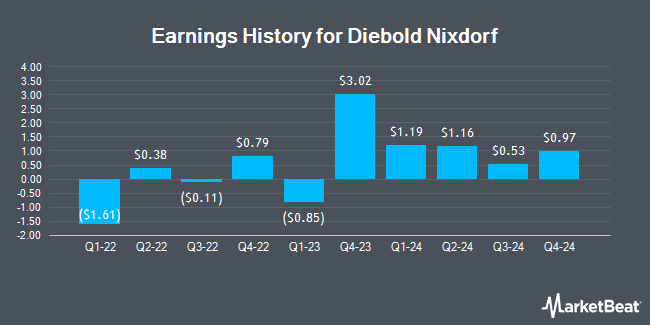 Receive News & Ratings for Diebold Nixdorf Daily - Enter your email address below to receive a concise daily summary of the latest news and analysts' ratings for Diebold Nixdorf and related companies with MarketBeat.com's FREE daily email newsletter.