DISH Network (NASDAQ:DISH) will be announcing its earnings results before the market opens on Tuesday, February 20th. Analysts expect the company to announce earnings of $0.55 per share for the quarter.
Shares of DISH Network (DISH) opened at $44.00 on Tuesday. DISH Network has a 12 month low of $42.28 and a 12 month high of $66.50. The company has a market capitalization of $20,520.00, a price-to-earnings ratio of 20.75, a PEG ratio of 1.89 and a beta of 1.04. The company has a quick ratio of 0.57, a current ratio of 0.63 and a debt-to-equity ratio of 2.72.
A number of equities research analysts have recently commented on DISH shares. Zacks Investment Research raised DISH Network from a "sell" rating to a "hold" rating in a research note on Friday, October 27th. Royal Bank of Canada reissued a "sector perform" rating and issued a $54.00 target price (down from $56.00) on shares of DISH Network in a research note on Wednesday, November 22nd. Moffett Nathanson reissued a "sell" rating on shares of DISH Network in a research note on Monday, October 16th. SunTrust Banks reissued a "hold" rating and issued a $60.00 target price on shares of DISH Network in a research note on Friday, November 10th. Finally, Morgan Stanley reaffirmed a "buy" rating and set a $75.00 price target on shares of DISH Network in a report on Tuesday, October 17th. Five investment analysts have rated the stock with a sell rating, nine have issued a hold rating and seven have issued a buy rating to the company's stock. DISH Network has a consensus rating of "Hold" and an average price target of $62.81.
COPYRIGHT VIOLATION NOTICE: This piece was originally reported by American Banking News and is the property of of American Banking News. If you are reading this piece on another site, it was stolen and republished in violation of U.S. and international copyright & trademark laws. The original version of this piece can be read at https://www.americanbankingnews.com/2018/02/13/dish-network-dish-to-release-quarterly-earnings-on-tuesday.html.
DISH Network Company Profile
DISH Network Corporation is a holding company. The Company operates through two segments: Pay-TV and Broadband, and Wireless. It offers pay-TV services under the DISH brand and the Sling brand (collectively Pay-TV services). The DISH branded pay-TV service consists of Federal Communications Commission (FCC) licenses authorizing it to use direct broadcast satellite and Fixed Satellite Service spectrum, its owned and leased satellites, receiver systems, third-party broadcast operations, customer service facilities, a leased fiber optic network, in-home service and call center operations, and certain other assets utilized in its operations.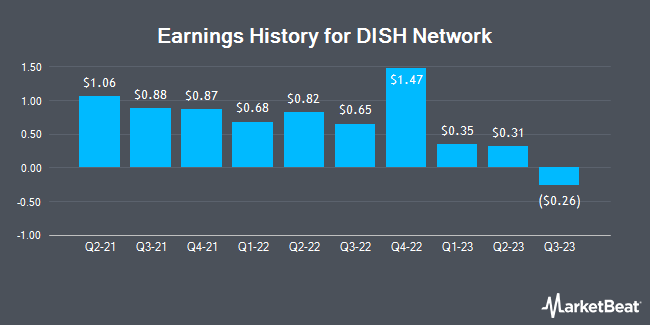 Receive News & Ratings for DISH Network Daily - Enter your email address below to receive a concise daily summary of the latest news and analysts' ratings for DISH Network and related companies with MarketBeat.com's FREE daily email newsletter.