EnPro Industries (NYSE:NPO) posted its earnings results on Tuesday. The industrial products company reported $0.67 earnings per share for the quarter, beating the Thomson Reuters' consensus estimate of $0.65 by $0.02, Bloomberg Earnings reports. EnPro Industries had a net margin of 40.74% and a return on equity of 7.92%.
Shares of EnPro Industries (NYSE:NPO) traded down $0.27 during mid-day trading on Tuesday, reaching $83.28. 185,168 shares of the company's stock traded hands, compared to its average volume of 116,959. The company has a debt-to-equity ratio of 0.65, a current ratio of 2.27 and a quick ratio of 1.59. EnPro Industries has a 52 week low of $61.36 and a 52 week high of $94.79. The stock has a market cap of $1,780.00, a PE ratio of 3.61, a PEG ratio of 1.48 and a beta of 1.03.
The firm also recently declared a quarterly dividend, which will be paid on Wednesday, March 21st. Shareholders of record on Wednesday, March 7th will be given a $0.24 dividend. This represents a $0.96 annualized dividend and a yield of 1.15%. This is a boost from EnPro Industries's previous quarterly dividend of $0.22. EnPro Industries's dividend payout ratio (DPR) is currently 3.82%.
Several analysts recently weighed in on NPO shares. KeyCorp reiterated a "hold" rating on shares of EnPro Industries in a report on Friday, October 20th. FBR & Co set a $100.00 target price on shares of EnPro Industries and gave the company a "buy" rating in a report on Tuesday, October 31st.
Zacks Investment Research
downgraded shares of EnPro Industries from a "hold" rating to a "strong sell" rating in a report on Friday, November 3rd. B. Riley reiterated a "buy" rating on shares of EnPro Industries in a report on Wednesday, November 1st. Finally, Oppenheimer lifted their target price on shares of EnPro Industries from $85.00 to $100.00 and gave the company an "outperform" rating in a report on Thursday, December 14th. One research analyst has rated the stock with a sell rating and six have given a buy rating to the stock. EnPro Industries has a consensus rating of "Buy" and an average price target of $99.17.
EnPro Industries declared that its Board of Directors has approved a stock buyback plan on Monday, October 30th that allows the company to repurchase $50.00 million in shares. This repurchase authorization allows the industrial products company to reacquire shares of its stock through open market purchases. Shares repurchase plans are generally a sign that the company's leadership believes its stock is undervalued.
TRADEMARK VIOLATION WARNING: "EnPro Industries (NPO) Posts Earnings Results, Beats Expectations By $0.02 EPS" was reported by American Banking News and is the sole property of of American Banking News. If you are viewing this article on another publication, it was illegally stolen and reposted in violation of US and international copyright and trademark law. The legal version of this article can be read at https://www.americanbankingnews.com/2018/02/13/enpro-industries-npo-posts-earnings-results-beats-expectations-by-0-02-eps.html.
About EnPro Industries
EnPro Industries, Inc is engaged in the designing, developing, manufacturing and marketing engineered industrial products. It operates through three segments. The Sealing Products segment includes three operating divisions: Garlock, which designs, manufactures and sells sealing products; Technetics, which designs, manufactures and sells metal seals and elastomeric seals, among others, and Stemco LP (Stemco), which designs, manufactures and sells heavy-duty truck wheel-end components and systems.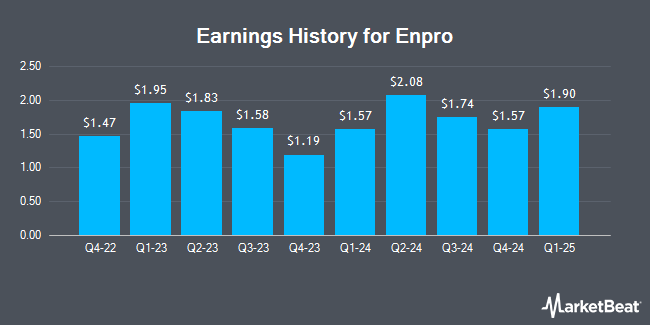 Receive News & Ratings for EnPro Industries Daily - Enter your email address below to receive a concise daily summary of the latest news and analysts' ratings for EnPro Industries and related companies with MarketBeat.com's FREE daily email newsletter.