goeasy (TSE:GSY) is scheduled to be announcing its earnings results after the market closes on Tuesday, February 20th. Analysts expect the company to announce earnings of C$0.81 per share for the quarter.
goeasy (GSY) opened at C$35.57 on Tuesday. The firm has a market cap of $468.44, a price-to-earnings ratio of 12.93 and a beta of 0.61. goeasy has a twelve month low of C$25.52 and a twelve month high of C$39.88.
A number of research analysts have recently weighed in on GSY shares. Desjardins raised their price target on shares of goeasy from C$42.00 to C$43.00 in a report on Thursday, January 25th. Raymond James Financial raised their price target on shares of goeasy from C$39.00 to C$43.00 and gave the company an "outperform" rating in a report on Wednesday, December 13th. Finally, BMO Capital Markets raised their price target on shares of goeasy from C$38.00 to C$39.00 in a report on Friday, November 3rd. One investment analyst has rated the stock with a hold rating and four have issued a buy rating to the company. goeasy presently has an average rating of "Buy" and a consensus target price of C$41.00.
TRADEMARK VIOLATION WARNING: "goeasy (GSY) to Release Quarterly Earnings on Tuesday" was first posted by American Banking News and is owned by of American Banking News. If you are accessing this piece on another website, it was illegally stolen and reposted in violation of US and international copyright & trademark laws. The legal version of this piece can be accessed at https://www.americanbankingnews.com/2018/02/13/goeasy-gsy-to-release-quarterly-earnings-on-tuesday.html.
goeasy Company Profile
goeasy Ltd. is a Canada-based full-service provider of goods and alternative financial services. The Company is engaged in providing loans and other financial services to consumers, and leasing household products to consumers. It operates in two segments: easyfinancial and easyhome. Its easyhome segment consists of four product categories: furniture, electronics, computers and appliances, which are offered under weekly or monthly leasing agreements.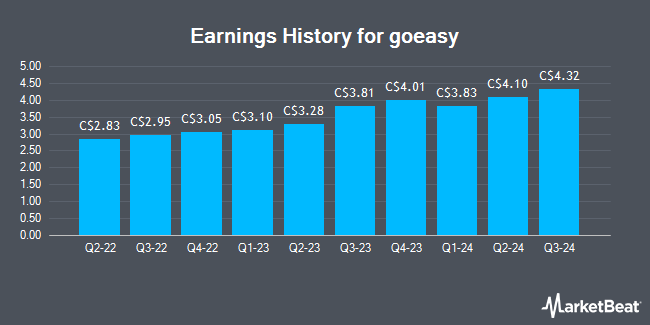 Receive News & Ratings for goeasy Daily - Enter your email address below to receive a concise daily summary of the latest news and analysts' ratings for goeasy and related companies with MarketBeat.com's FREE daily email newsletter.