HSN (NASDAQ:HSNI) will be releasing its earnings data before the market opens on Tuesday, February 20th. Analysts expect HSN to post earnings of $0.94 per share for the quarter.
The company has a debt-to-equity ratio of 2.02, a quick ratio of 0.60 and a current ratio of 1.53. The company has a market cap of $2,120.00, a PE ratio of 18.68, a PEG ratio of 1.64 and a beta of 1.41. HSN has a one year low of $30.90 and a one year high of $44.15.
A number of research analysts have issued reports on the stock. B. Riley reissued a "hold" rating on shares of HSN in a research note on Tuesday, January 2nd. BidaskClub raised shares of HSN from a "sell" rating to a "hold" rating in a research note on Wednesday, December 20th. Zacks Investment Research lowered shares of HSN from a "hold" rating to a "sell" rating in a research note on Thursday, November 9th. Finally, UBS Group reduced their target price on shares of HSN from $46.00 to $45.00 and set a "buy" rating for the company in a research note on Thursday, November 9th. One equities research analyst has rated the stock with a sell rating, six have given a hold rating and two have assigned a buy rating to the company's stock. The company has an average rating of "Hold" and an average price target of $43.17.
COPYRIGHT VIOLATION WARNING: This news story was posted by American Banking News and is the property of of American Banking News. If you are accessing this news story on another publication, it was stolen and reposted in violation of U.S. and international copyright and trademark laws. The legal version of this news story can be accessed at https://www.americanbankingnews.com/2018/02/13/hsn-hsni-to-release-earnings-on-tuesday.html.
HSN Company Profile
HSN, Inc is an interactive multi-channel retailer. The Company markets and sells a range of third party and merchandise directly to consumers through various platforms, including television home shopping programing broadcast on the HSN television networks and other direct-response television marketing; catalogs, consisting of the Cornerstone portfolio of print catalogs, which includes, Ballard Designs, Frontgate, Garnet Hill, Grandin Road and Improvements; Websites, which consist primarily of HSN.com, joymangano.com and the five branded Websites operated by Cornerstone; mobile devices; retail and outlet stores, and wholesale distribution of certain products to other retailers.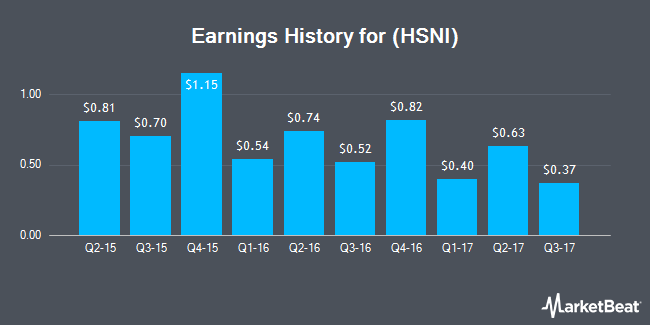 Receive News & Ratings for HSN Daily - Enter your email address below to receive a concise daily summary of the latest news and analysts' ratings for HSN and related companies with MarketBeat.com's FREE daily email newsletter.