Kraton (NYSE:KRA) will be releasing its earnings data after the market closes on Tuesday, February 20th. Analysts expect Kraton to post earnings of $0.67 per share for the quarter.
Kraton (NYSE:KRA) opened at $47.89 on Tuesday. The stock has a market cap of $1,458.09, a PE ratio of 63.01 and a beta of 1.13. Kraton has a one year low of $25.09 and a one year high of $53.39. The company has a debt-to-equity ratio of 2.85, a current ratio of 2.27 and a quick ratio of 1.19.
In other Kraton news, insider Kevin Michael Fogarty sold 1,042 shares of the company's stock in a transaction dated Monday, December 18th. The shares were sold at an average price of $50.00, for a total transaction of $52,100.00. Following the transaction, the insider now owns 197,731 shares in the company, valued at approximately $9,886,550. The transaction was disclosed in a document filed with the Securities & Exchange Commission, which is available through this hyperlink. 4.71% of the stock is currently owned by corporate insiders.
A number of brokerages recently issued reports on KRA. UBS Group upped their price target on shares of Kraton from $28.00 to $30.00 and gave the stock a "sell" rating in a research note on Wednesday, October 25th.
Zacks Investment Research
upgraded shares of Kraton from a "hold" rating to a "buy" rating and set a $47.00 target price on the stock in a research note on Tuesday, October 17th.
ValuEngine
upgraded shares of Kraton from a "hold" rating to a "buy" rating in a research note on Friday, February 2nd. Finally, TheStreet cut shares of Kraton from a "b-" rating to a "c" rating in a research note on Wednesday, October 25th. One investment analyst has rated the stock with a sell rating, two have given a hold rating and four have issued a buy rating to the company's stock. The stock presently has an average rating of "Hold" and a consensus target price of $51.50.
ILLEGAL ACTIVITY WARNING: This report was originally reported by American Banking News and is the property of of American Banking News. If you are viewing this report on another site, it was copied illegally and republished in violation of US and international trademark & copyright laws. The correct version of this report can be viewed at https://www.americanbankingnews.com/2018/02/13/kraton-kra-set-to-announce-earnings-on-tuesday.html.
About Kraton
Kraton Corporation, formerly Kraton Performance Polymers, Inc, is a specialty chemicals company. The Company manufactures styrenic block copolymers (SBCs) and other engineered polymers. The Company also produces specialty products primarily derived from pine wood pulping co-products. The Company operates through two segments: Polymer Segment, which comprises SBCs and other engineered polymers business, and Chemical Segment, which comprises pine-based specialty products business.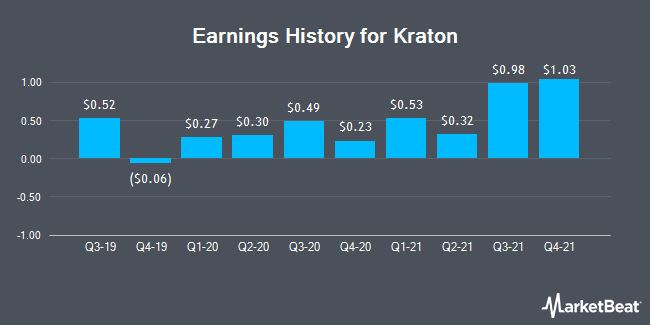 Receive News & Ratings for Kraton Daily - Enter your email address below to receive a concise daily summary of the latest news and analysts' ratings for Kraton and related companies with MarketBeat.com's FREE daily email newsletter.