MSA Safety (NYSE:MSA) is scheduled to be announcing its earnings results after the market closes on Tuesday, February 20th. Analysts expect the company to announce earnings of $0.94 per share for the quarter.
Shares of MSA Safety (MSA) opened at $74.22 on Tuesday. MSA Safety has a one year low of $65.95 and a one year high of $86.36. The company has a current ratio of 2.11, a quick ratio of 1.52 and a debt-to-equity ratio of 0.72. The stock has a market capitalization of $2,788.50, a P/E ratio of 34.20 and a beta of 1.62.
The firm also recently declared a quarterly dividend, which will be paid on Saturday, March 10th. Investors of record on Wednesday, February 14th will be paid a dividend of $0.35 per share. This represents a $1.40 dividend on an annualized basis and a dividend yield of 1.89%. The ex-dividend date is Tuesday, February 13th. MSA Safety's dividend payout ratio is currently 64.52%.
In other MSA Safety news, insider Kerry M. Bove sold 5,727 shares of the firm's stock in a transaction on Thursday, November 16th. The stock was sold at an average price of $80.00, for a total transaction of $458,160.00. Following the transaction, the insider now directly owns 57,874 shares in the company, valued at approximately $4,629,920. The transaction was disclosed in a document filed with the Securities & Exchange Commission, which is available at
the SEC website
. Also, Chairman William M. Lambert sold 17,944 shares of the firm's stock in a transaction on Thursday, November 16th. The stock was sold at an average price of $79.57, for a total value of $1,427,804.08. The disclosure for this sale can be found
here
. Insiders have sold a total of 88,790 shares of company stock worth $7,106,723 over the last 90 days. 11.47% of the stock is currently owned by company insiders.
A number of equities research analysts recently issued reports on MSA shares. Robert W. Baird raised their price target on MSA Safety from $80.00 to $89.00 and gave the stock a "neutral" rating in a research note on Sunday, October 22nd. Zacks Investment Research downgraded MSA Safety from a "hold" rating to a "sell" rating in a report on Friday, October 20th. Finally, Barrington Research restated a "market perform" rating on shares of MSA Safety in a report on Monday, October 23rd. One research analyst has rated the stock with a sell rating, two have assigned a hold rating and two have issued a buy rating to the stock. The stock has a consensus rating of "Hold" and an average target price of $89.00.
COPYRIGHT VIOLATION NOTICE: This piece was originally published by American Banking News and is owned by of American Banking News. If you are viewing this piece on another website, it was stolen and republished in violation of United States and international trademark and copyright law. The legal version of this piece can be accessed at https://www.americanbankingnews.com/2018/02/13/msa-safety-msa-to-release-quarterly-earnings-on-tuesday.html.
About MSA Safety
Mine Safety Appliances Company is engaged in the development, manufacture and supply of products that protect people's health and safety. The Company's line of safety products is used by workers worldwide in the fire service, homeland security, oil and gas, construction and other industries, as well as the military.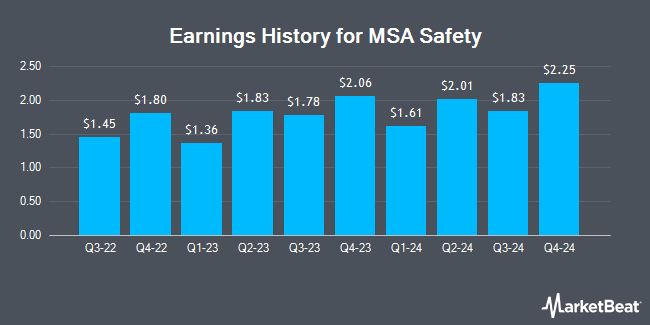 Receive News & Ratings for MSA Safety Daily - Enter your email address below to receive a concise daily summary of the latest news and analysts' ratings for MSA Safety and related companies with MarketBeat.com's FREE daily email newsletter.