Universal Insurance (NYSE:UVE) will be releasing its earnings data after the market closes on Tuesday, February 20th. Analysts expect Universal Insurance to post earnings of $0.81 per share for the quarter.
Shares of Universal Insurance (UVE) opened at $27.90 on Tuesday. The company has a current ratio of 0.77, a quick ratio of 0.77 and a debt-to-equity ratio of 0.03. The company has a market capitalization of $960.97, a P/E ratio of 11.92 and a beta of 1.90. Universal Insurance has a 52 week low of $15.07 and a 52 week high of $30.45.
The business also recently declared a quarterly dividend, which will be paid on Monday, March 12th. Stockholders of record on Wednesday, February 28th will be given a $0.14 dividend. The ex-dividend date of this dividend is Tuesday, February 27th. This represents a $0.56 dividend on an annualized basis and a dividend yield of 2.01%. Universal Insurance's dividend payout ratio (DPR) is presently 23.93%.
Universal Insurance announced that its board has initiated a share repurchase plan on Wednesday, November 8th that authorizes the company to repurchase $20.00 million in shares. This repurchase authorization authorizes the insurance provider to purchase shares of its stock through open market purchases. Stock repurchase plans are typically a sign that the company's board of directors believes its shares are undervalued.
In other news, Director Michael Pietrangelo sold 9,969 shares of the company's stock in a transaction that occurred on Tuesday, November 28th. The stock was sold at an average price of $26.27, for a total value of $261,885.63. The transaction was disclosed in a document filed with the Securities & Exchange Commission, which can be accessed through the SEC website. 10.50% of the stock is owned by corporate insiders.
A number of research firms have recently issued reports on UVE. ValuEngine upgraded Universal Insurance from a "buy" rating to a "strong-buy" rating in a research report on Thursday, November 9th. Keefe, Bruyette & Woods set a $32.00 price target on Universal Insurance and gave the company a "buy" rating in a research report on Monday, January 15th.
ILLEGAL ACTIVITY WARNING: "Universal Insurance (UVE) to Release Earnings on Tuesday" was first reported by American Banking News and is the property of of American Banking News. If you are accessing this piece of content on another website, it was stolen and reposted in violation of U.S. & international copyright law. The original version of this piece of content can be viewed at https://www.americanbankingnews.com/2018/02/13/universal-insurance-uve-to-release-earnings-on-tuesday.html.
About Universal Insurance
Universal Insurance Holdings, Inc (UVE) is a private personal residential homeowners insurance company in Florida. The Company performs substantially all aspects of insurance underwriting, policy issuance, general administration, and claims processing and settlement internally. The Company's subsidiaries include Universal Property & Casualty Insurance Company (UPCIC) and American Platinum Property and Casualty Insurance Company (APPCIC).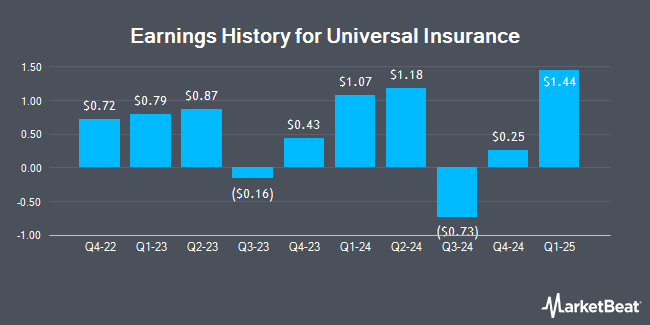 Receive News & Ratings for Universal Insurance Daily - Enter your email address below to receive a concise daily summary of the latest news and analysts' ratings for Universal Insurance and related companies with MarketBeat.com's FREE daily email newsletter.