American Assets Trust, Inc (NYSE:AAT) announced a quarterly dividend on Wednesday, February 14th, Wall Street Journal reports. Stockholders of record on Thursday, March 15th will be given a dividend of 0.27 per share by the real estate investment trust on Thursday, March 29th. This represents a $1.08 annualized dividend and a dividend yield of 3.38%. The ex-dividend date is Wednesday, March 14th.
American Assets Trust has raised its dividend by an average of 5.6% annually over the last three years. American Assets Trust has a dividend payout ratio of 54.0% meaning its dividend is sufficiently covered by earnings. Analysts expect American Assets Trust to earn $2.06 per share next year, which means the company should continue to be able to cover its $1.08 annual dividend with an expected future payout ratio of 52.4%.
American Assets Trust (NYSE AAT) traded down $0.98 during midday trading on Wednesday, hitting $32.00. The stock had a trading volume of 464,561 shares, compared to its average volume of 193,361. The company has a market capitalization of $1,537.31, a P/E ratio of 49.97, a price-to-earnings-growth ratio of 2.77 and a beta of 0.40. American Assets Trust has a 52-week low of $30.93 and a 52-week high of $44.83. The company has a debt-to-equity ratio of 1.56, a quick ratio of 2.76 and a current ratio of 2.76.
American Assets Trust (NYSE:AAT) last released its quarterly earnings data on Tuesday, February 13th. The real estate investment trust reported $0.15 EPS for the quarter, missing the Thomson Reuters' consensus estimate of $0.17 by ($0.02). The firm had revenue of $81.75 million for the quarter. American Assets Trust had a net margin of 10.90% and a return on equity of 3.97%. equities analysts expect that American Assets Trust will post 2 EPS for the current year.
AAT has been the subject of several recent research reports. Bank of America downgraded American Assets Trust from a "buy" rating to a "neutral" rating and set a $41.00 price objective for the company. in a report on Thursday, November 2nd. Mizuho restated a "hold" rating and set a $40.00 price objective on shares of American Assets Trust in a report on Friday, November 10th. Finally, Zacks Investment Research downgraded American Assets Trust from a "hold" rating to a "sell" rating in a report on Tuesday, October 31st. Two equities research analysts have rated the stock with a sell rating, two have given a hold rating and one has issued a buy rating to the stock. The company has a consensus rating of "Hold" and a consensus price target of $44.00.
In related news, CEO Ernest S. Rady purchased 40,167 shares of the firm's stock in a transaction that occurred on Tuesday, November 21st. The stock was acquired at an average price of $39.34 per share, for a total transaction of $1,580,169.78. The transaction was disclosed in a filing with the Securities & Exchange Commission, which is available at this link. Also, CEO Ernest S. Rady purchased 5,825 shares of the firm's stock in a transaction that occurred on Friday, November 17th. The shares were bought at an average price of $39.46 per share, with a total value of $229,854.50. The disclosure for this purchase can be found here. In the last 90 days, insiders have bought 156,554 shares of company stock valued at $6,121,031. Corporate insiders own 34.15% of the company's stock.
ILLEGAL ACTIVITY NOTICE: This story was first published by American Banking News and is owned by of American Banking News. If you are reading this story on another website, it was stolen and reposted in violation of US and international copyright and trademark legislation. The legal version of this story can be read at https://www.americanbankingnews.com/2018/02/14/american-assets-trust-inc-aat-declares-0-27-quarterly-dividend.html.
About American Assets Trust
American Assets Trust, Inc is a full service, vertically integrated and self-administered real estate investment trust (REIT). The Company owns, operates, acquires and develops retail, office, multifamily and mixed-use properties in Southern California, Northern California, Oregon, Washington, Texas and Hawaii markets.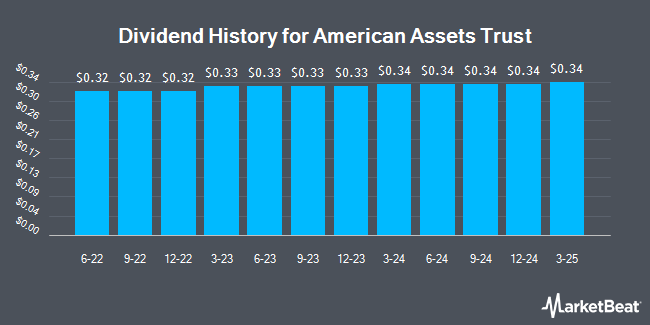 Receive News & Ratings for American Assets Trust Daily - Enter your email address below to receive a concise daily summary of the latest news and analysts' ratings for American Assets Trust and related companies with MarketBeat.com's FREE daily email newsletter.