AV Homes (NASDAQ:AVHI) is set to issue its quarterly earnings data after the market closes on Wednesday, February 21st. Analysts expect the company to announce earnings of $0.41 per share for the quarter.
Shares of AV Homes (NASDAQ:AVHI) opened at $15.75 on Wednesday. AV Homes has a one year low of $14.65 and a one year high of $20.50. The company has a current ratio of 2.56, a quick ratio of 2.56 and a debt-to-equity ratio of 1.04. The firm has a market cap of $353.68, a PE ratio of 21.88 and a beta of 0.52.
A number of research analysts recently issued reports on the company. BidaskClub raised AV Homes from a "hold" rating to a "buy" rating in a report on Friday, January 5th. Zacks Investment Research raised AV Homes from a "hold" rating to a "strong-buy" rating and set a $21.00 target price on the stock in a report on Thursday, January 4th.
ILLEGAL ACTIVITY WARNING: This news story was first posted by American Banking News and is the property of of American Banking News. If you are accessing this news story on another site, it was copied illegally and reposted in violation of United States and international trademark & copyright laws. The legal version of this news story can be read at https://www.americanbankingnews.com/2018/02/14/av-homes-avhi-set-to-announce-quarterly-earnings-on-wednesday.html.
AV Homes Company Profile
AV Homes, Inc is a homebuilder engaged in the business of homebuilding and community development in Florida, Arizona and the Carolinas. The Company is also engaged in other real estate activities, such as the operation of amenities and the sale of land for third-party development. The Company's segments include Florida, Arizona and the Carolinas.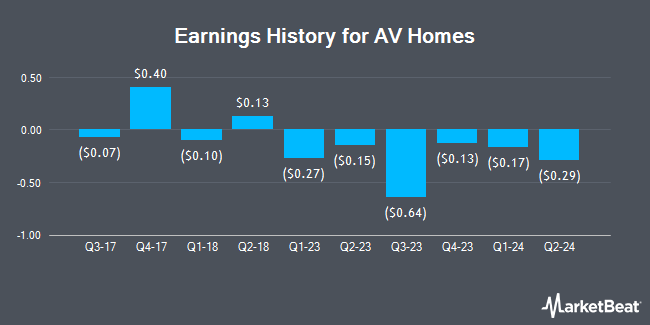 Receive News & Ratings for AV Homes Daily - Enter your email address below to receive a concise daily summary of the latest news and analysts' ratings for AV Homes and related companies with MarketBeat.com's FREE daily email newsletter.