Breedon Group PLC (LON:BREE) has received an average recommendation of "Buy" from the six brokerages that are presently covering the company, Marketbeat Ratings reports. Two investment analysts have rated the stock with a hold rating and four have given a buy rating to the company. The average twelve-month price objective among brokers that have issued a report on the stock in the last year is GBX 93.60 ($1.29).
A number of equities analysts recently commented on the company. Numis Securities reiterated an "add" rating and issued a GBX 96 ($1.33) price target on shares of Breedon Group in a research note on Wednesday, December 13th. Peel Hunt downgraded Breedon Group to an "add" rating and lifted their price target for the stock from GBX 90 ($1.24) to GBX 92 ($1.27) in a research note on Wednesday, December 6th. Barclays assumed coverage on Breedon Group in a research note on Monday, November 27th. They issued an "overweight" rating and a GBX 93 ($1.28) price target for the company. Finally, Shore Capital reiterated a "buy" rating on shares of Breedon Group in a research note on Wednesday, November 22nd.
Shares of Breedon Group (BREE) opened at GBX 77.48 ($1.07) on Wednesday. The firm has a market capitalization of $1,120.00 and a PE ratio of 2,582.50. Breedon Group has a 52 week low of GBX 73 ($1.01) and a 52 week high of GBX 92.50 ($1.28).
COPYRIGHT VIOLATION NOTICE: "Breedon Group PLC (BREE) Receives Consensus Rating of "Buy" from Analysts" was first posted by American Banking News and is owned by of American Banking News. If you are accessing this news story on another website, it was illegally copied and republished in violation of US and international copyright legislation. The correct version of this news story can be viewed at https://www.americanbankingnews.com/2018/02/14/breedon-group-plc-bree-receives-consensus-rating-of-buy-from-analysts.html.
Breedon Group Company Profile
Breedon Group plc, formerly Breedon Aggregates Limited, is an independent construction materials company. The Company's operations include a cement plant, two cementitious import terminals, approximately 60 quarries, over 30 asphalt plants, over 200 ready-mixed concrete plants and three concrete products plants.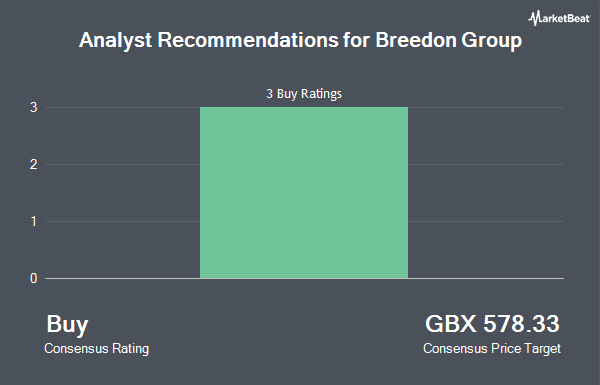 Receive News & Ratings for Breedon Group Daily - Enter your email address below to receive a concise daily summary of the latest news and analysts' ratings for Breedon Group and related companies with MarketBeat.com's FREE daily email newsletter.