Credit Agricole (OTCMKTS:CRARY) posted its earnings results on Wednesday. The company reported $0.15 earnings per share for the quarter, Morningstar.com reports. Credit Agricole had a return on equity of 5.03% and a net margin of 18.56%.
Credit Agricole (OTCMKTS:CRARY) traded down $0.17 during trading on Wednesday, reaching $8.45. The company's stock had a trading volume of 46,856 shares, compared to its average volume of 63,622. The company has a debt-to-equity ratio of 4.94, a current ratio of 1.45 and a quick ratio of 1.45. The firm has a market capitalization of $49,066.84, a price-to-earnings ratio of 14.08 and a beta of 1.43. Credit Agricole has a 12 month low of $5.87 and a 12 month high of $9.62.
Separately, Zacks Investment Research raised Credit Agricole from a "sell" rating to a "hold" rating in a report on Tuesday, January 16th.
ILLEGAL ACTIVITY NOTICE: "Credit Agricole (CRARY) Announces Quarterly Earnings Results" was first published by American Banking News and is owned by of American Banking News. If you are accessing this piece on another site, it was illegally copied and republished in violation of international copyright and trademark laws. The correct version of this piece can be read at https://www.americanbankingnews.com/2018/02/14/credit-agricole-crary-announces-quarterly-earnings-results.html.
Credit Agricole Company Profile
Credit Agricole SA provides retail, corporate, insurance, and investment banking products and services worldwide. The company operates through five segments: Asset gathering; French Retail Banking – LCL; International Retail Banking; Specialised Financial Services; and Large customers. It offers payment instruments, loans, saving products, and payment management products and services; and savings/retirement, death and disability/creditor/group, and property and casualty insurance products.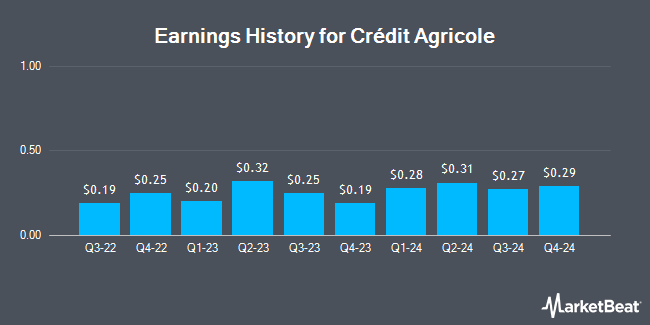 Receive News & Ratings for Credit Agricole Daily - Enter your email address below to receive a concise daily summary of the latest news and analysts' ratings for Credit Agricole and related companies with MarketBeat.com's FREE daily email newsletter.