DENTSPLY SIRONA Inc (NASDAQ:XRAY) announced a quarterly dividend on Wednesday, February 14th, RTT News reports. Stockholders of record on Thursday, March 29th will be paid a dividend of 0.0875 per share by the medical instruments supplier on Friday, April 13th. This represents a $0.35 annualized dividend and a dividend yield of 0.61%.
Shares of DENTSPLY SIRONA (NASDAQ XRAY) traded up $0.19 on Wednesday, reaching $57.18. 1,831,133 shares of the company traded hands, compared to its average volume of 2,517,827. DENTSPLY SIRONA has a fifty-two week low of $52.53 and a fifty-two week high of $68.98. The firm has a market capitalization of $13,090.00, a PE ratio of -16.38, a price-to-earnings-growth ratio of 2.12 and a beta of 1.17. The company has a debt-to-equity ratio of 0.21, a current ratio of 2.32 and a quick ratio of 1.59.
In other DENTSPLY SIRONA news, Director Eric Brandt sold 6,409 shares of the firm's stock in a transaction dated Monday, January 8th. The shares were sold at an average price of $68.04, for a total value of $436,068.36. Following the transaction, the director now directly owns 12,073 shares of the company's stock, valued at approximately $821,446.92. The transaction was disclosed in a legal filing with the SEC, which is available through this link. 1.99% of the stock is currently owned by company insiders.
A number of analysts have commented on the stock.
Zacks Investment Research
cut shares of DENTSPLY SIRONA from a "hold" rating to a "sell" rating in a research note on Monday, October 30th. BidaskClub cut shares of DENTSPLY SIRONA from a "strong-buy" rating to a "buy" rating in a research note on Saturday, December 2nd. Robert W. Baird set a $63.00 target price on shares of DENTSPLY SIRONA and gave the stock a "buy" rating in a research note on Thursday, October 19th. Credit Suisse Group cut shares of DENTSPLY SIRONA to a "hold" rating and set a $73.00 target price for the company. in a research note on Friday, January 5th. Finally, Stephens began coverage on shares of DENTSPLY SIRONA in a research note on Tuesday, November 28th. They set an "overweight" rating and a $75.00 target price for the company. Three analysts have rated the stock with a sell rating, four have assigned a hold rating and eight have issued a buy rating to the company. The company currently has an average rating of "Hold" and an average target price of $69.15.
COPYRIGHT VIOLATION WARNING: This article was first published by American Banking News and is the sole property of of American Banking News. If you are reading this article on another site, it was stolen and reposted in violation of U.S. and international trademark and copyright legislation. The legal version of this article can be viewed at https://www.americanbankingnews.com/2018/02/14/dentsply-sirona-inc-declares-quarterly-dividend-of-0-09-xray.html.
DENTSPLY SIRONA Company Profile
DENTSPLY SIRONA Inc is a manufacturer of professional dental products and technologies. The Company develops, manufactures, and markets solutions offering, including dental and oral health products, as well as other consumable medical devices. It operates through two segments: Dental and Healthcare Consumables, and Technologies.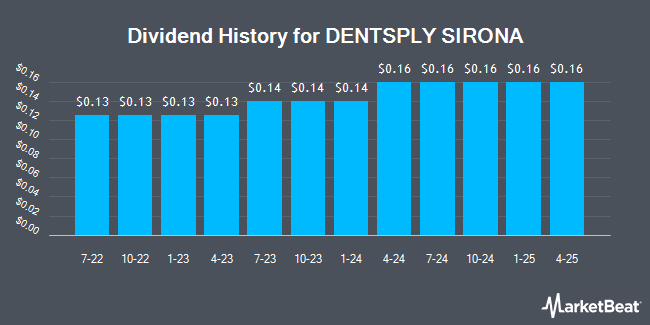 Receive News & Ratings for DENTSPLY SIRONA Daily - Enter your email address below to receive a concise daily summary of the latest news and analysts' ratings for DENTSPLY SIRONA and related companies with MarketBeat.com's FREE daily email newsletter.