Ibstock plc (LON:IBST) has been assigned a consensus rating of "Buy" from the ten brokerages that are presently covering the firm, MarketBeat reports. Three analysts have rated the stock with a hold rating and seven have given a buy rating to the company. The average 12 month target price among brokerages that have updated their coverage on the stock in the last year is GBX 286.25 ($3.95).
Several equities research analysts recently issued reports on the company. Deutsche Bank reiterated a "buy" rating and issued a GBX 292 ($4.03) price target on shares of Ibstock in a research note on Tuesday, January 30th. JPMorgan Chase & Co. reiterated an "overweight" rating and issued a GBX 300 ($4.14) price target on shares of Ibstock in a research note on Friday, January 19th. Numis Securities boosted their price target on Ibstock from GBX 270 ($3.73) to GBX 288 ($3.98) and gave the company an "add" rating in a research note on Tuesday, February 6th. Peel Hunt cut Ibstock to a "hold" rating and set a GBX 285 ($3.94) price target for the company. in a research note on Thursday, January 18th. Finally, Barclays restated an "equal weight" rating on shares of Ibstock in a research report on Friday, January 19th.
Shares of Ibstock (LON IBST) opened at GBX 249.20 ($3.44) on Wednesday. Ibstock has a 12 month low of GBX 186.90 ($2.58) and a 12 month high of GBX 273.40 ($3.78). The firm has a market cap of $1,010.00 and a price-to-earnings ratio of 1,132.73.
COPYRIGHT VIOLATION NOTICE: "Ibstock plc (IBST) Receives Consensus Recommendation of "Buy" from Analysts" was originally published by American Banking News and is the sole property of of American Banking News. If you are accessing this story on another website, it was illegally copied and republished in violation of United States & international trademark & copyright legislation. The correct version of this story can be accessed at https://www.americanbankingnews.com/2018/02/14/ibstock-plc-ibst-receives-consensus-recommendation-of-buy-from-analysts.html.
About Ibstock
Ibstock plc is a United Kingdom-based company, which is engaged in manufacturing of clay bricks and concrete products. The Company's segments are the UK and the US. The Company's principal products include clay bricks, brick components, concrete stone masonry substitutes, concrete fencing, pre-stressed concrete products and concrete rail products.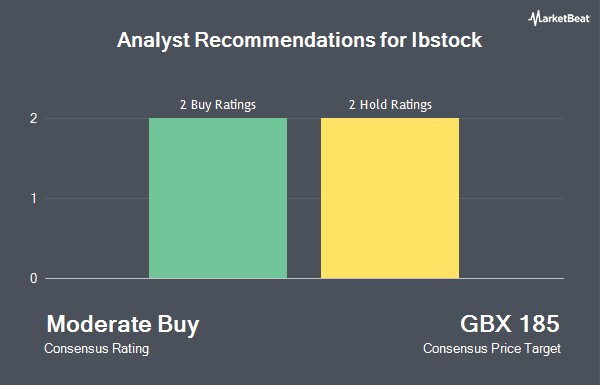 Receive News & Ratings for Ibstock Daily - Enter your email address below to receive a concise daily summary of the latest news and analysts' ratings for Ibstock and related companies with MarketBeat.com's FREE daily email newsletter.