IDACORP (NYSE:IDA) is scheduled to announce its earnings results before the market opens on Wednesday, February 21st. Analysts expect the company to announce earnings of $0.67 per share for the quarter.
IDACORP (NYSE:IDA) opened at $83.47 on Wednesday. IDACORP has a one year low of $78.37 and a one year high of $100.04. The company has a quick ratio of 1.53, a current ratio of 2.03 and a debt-to-equity ratio of 0.78. The company has a market cap of $4,211.35, a price-to-earnings ratio of 20.31, a PEG ratio of 4.93 and a beta of 0.42.
The firm also recently announced a quarterly dividend, which will be paid on Wednesday, February 28th. Stockholders of record on Monday, February 5th will be paid a $0.59 dividend. This represents a $2.36 dividend on an annualized basis and a dividend yield of 2.83%. The ex-dividend date is Friday, February 2nd. IDACORP's dividend payout ratio is presently 57.42%.
A number of equities analysts have recently commented on IDA shares.
ValuEngine
raised shares of IDACORP from a "hold" rating to a "buy" rating in a research note on Sunday, December 31st. KeyCorp reissued a "hold" rating on shares of IDACORP in a research note on Friday, October 20th.
Zacks Investment Research
downgraded shares of IDACORP from a "buy" rating to a "hold" rating in a research note on Wednesday, January 3rd. Finally, Bank of America started coverage on shares of IDACORP in a research note on Tuesday, January 9th. They issued an "underperform" rating and a $85.00 target price on the stock. One equities research analyst has rated the stock with a sell rating, three have issued a hold rating and one has assigned a buy rating to the company. The stock presently has an average rating of "Hold" and an average price target of $91.00.
ILLEGAL ACTIVITY NOTICE: "IDACORP (IDA) Set to Announce Quarterly Earnings on Wednesday" was first posted by American Banking News and is the property of of American Banking News. If you are viewing this story on another site, it was illegally stolen and reposted in violation of international copyright and trademark legislation. The original version of this story can be viewed at https://www.americanbankingnews.com/2018/02/14/idacorp-ida-set-to-announce-quarterly-earnings-on-wednesday.html.
About IDACORP
IDACORP, Inc is a holding company. The Company's principal operating subsidiary is Idaho Power Company (Idaho Power). The Company's segment is utility operations. The utility operations segment's primary source of revenue is the regulated operations of Idaho Power. Idaho Power is an electric utility engaged in the generation, transmission, distribution, sale and purchase of electric energy and capacity.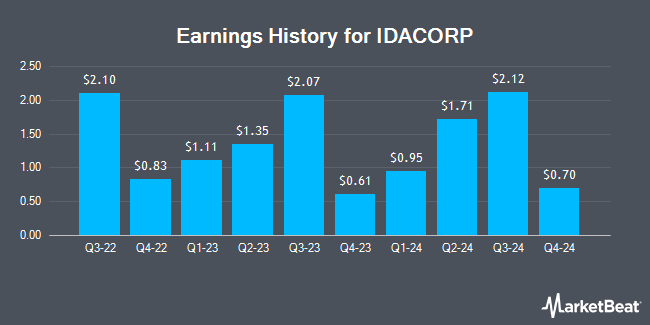 Receive News & Ratings for IDACORP Daily - Enter your email address below to receive a concise daily summary of the latest news and analysts' ratings for IDACORP and related companies with MarketBeat.com's FREE daily email newsletter.