Invuity (NASDAQ:IVTY) released its earnings results on Tuesday. The medical instruments supplier reported ($0.43) earnings per share for the quarter, beating the Thomson Reuters' consensus estimate of ($0.50) by $0.07, Bloomberg Earnings reports. The company had revenue of $11.23 million for the quarter, compared to the consensus estimate of $11.84 million. Invuity had a negative return on equity of 212.38% and a negative net margin of 111.43%.
Invuity (NASDAQ IVTY) traded down $0.55 during midday trading on Wednesday, reaching $3.95. The company had a trading volume of 479,800 shares, compared to its average volume of 291,645. The stock has a market capitalization of $77.13, a P/E ratio of -1.60 and a beta of -0.50. The company has a quick ratio of 2.47, a current ratio of 2.90 and a debt-to-equity ratio of 5.39. Invuity has a 12 month low of $3.75 and a 12 month high of $9.70.
IVTY has been the topic of several analyst reports. Piper Jaffray Companies reiterated a "buy" rating and set a $12.00 target price on shares of Invuity in a research report on Friday, November 10th. Zacks Investment Research downgraded Invuity from a "hold" rating to a "sell" rating in a research report on Wednesday, January 10th. Finally, Northland Securities reiterated a "buy" rating and set a $6.00 target price on shares of Invuity in a research report on Wednesday. One analyst has rated the stock with a sell rating, one has assigned a hold rating and four have issued a buy rating to the company. The company currently has a consensus rating of "Buy" and an average target price of $8.50.
WARNING: This story was first published by American Banking News and is the sole property of of American Banking News. If you are viewing this story on another website, it was copied illegally and reposted in violation of US & international trademark and copyright legislation. The original version of this story can be accessed at https://www.americanbankingnews.com/2018/02/14/invuity-ivty-releases-earnings-results-beats-estimates-by-0-07-eps.html.
About Invuity
Invuity, Inc, a medical technology company, develops various surgical devices to address various surgical procedures in the United States. The company integrates its intelligent photonics technology platform into its single-use and reusable advanced surgical devices to address various critical intracavity illumination and visualization challenges.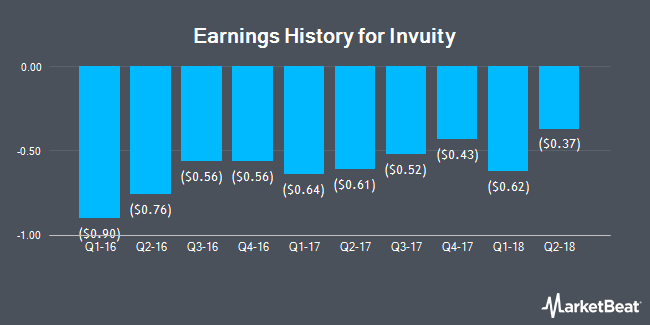 Receive News & Ratings for Invuity Daily - Enter your email address below to receive a concise daily summary of the latest news and analysts' ratings for Invuity and related companies with MarketBeat.com's FREE daily email newsletter.