Koppers (NYSE:KOP) will be posting its quarterly earnings results before the market opens on Wednesday, February 21st. Analysts expect Koppers to post earnings of $0.49 per share for the quarter.
Koppers (NYSE:KOP) opened at $40.05 on Wednesday. The firm has a market capitalization of $830.86, a PE ratio of 16.97 and a beta of 0.85. The company has a debt-to-equity ratio of 6.08, a current ratio of 2.02 and a quick ratio of 1.13. Koppers has a one year low of $33.90 and a one year high of $51.80.
A number of equities analysts have recently weighed in on the company. Zacks Investment Research lowered Koppers from a "strong-buy" rating to a "sell" rating in a research note on Wednesday, January 17th. B. Riley reaffirmed a "buy" rating and issued a $65.00 price objective on shares of Koppers in a research note on Tuesday, December 19th. Finally, ValuEngine lowered Koppers from a "buy" rating to a "hold" rating in a research note on Friday, February 2nd. One investment analyst has rated the stock with a sell rating, two have assigned a hold rating and four have assigned a buy rating to the company. The stock presently has a consensus rating of "Hold" and a consensus price target of $50.17.
ILLEGAL ACTIVITY WARNING: "Koppers (KOP) Set to Announce Earnings on Wednesday" was first posted by American Banking News and is the sole property of of American Banking News. If you are reading this piece of content on another publication, it was copied illegally and reposted in violation of United States and international copyright & trademark laws. The legal version of this piece of content can be read at https://www.americanbankingnews.com/2018/02/14/koppers-kop-set-to-announce-earnings-on-wednesday.html.
Koppers Company Profile
Koppers Holdings Inc is a global integrated provider of treated wood products, wood treatment chemicals and carbon compounds. The Company operates through three segments: Railroad and Utility Products and Services (RUPS), Carbon Materials and Chemicals (CMC) and Performance Chemicals (PC). The RUPS business sells treated and untreated wood products, rail joint bars and services primarily to the railroad markets.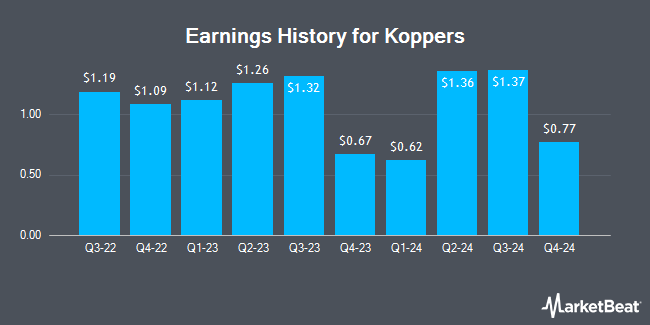 Receive News & Ratings for Koppers Daily - Enter your email address below to receive a concise daily summary of the latest news and analysts' ratings for Koppers and related companies with MarketBeat.com's FREE daily email newsletter.