Life Storage (NYSE:LSI) is set to post its quarterly earnings results after the market closes on Wednesday, February 21st. Analysts expect Life Storage to post earnings of $0.72 per share for the quarter.
Shares of Life Storage (LSI) opened at $79.33 on Wednesday. The company has a quick ratio of 0.19, a current ratio of 0.19 and a debt-to-equity ratio of 0.85. The stock has a market capitalization of $3,690.00, a price-to-earnings ratio of 39.47, a P/E/G ratio of 3.14 and a beta of 0.52. Life Storage has a 1-year low of $69.00 and a 1-year high of $91.75.
The company also recently disclosed a quarterly dividend, which was paid on Friday, January 26th. Investors of record on Tuesday, January 16th were issued a $1.00 dividend. The ex-dividend date of this dividend was Friday, January 12th. This represents a $4.00 annualized dividend and a dividend yield of 5.04%. Life Storage's dividend payout ratio is presently 199.00%.
Several equities research analysts recently issued reports on the company. SunTrust Banks reiterated a "hold" rating and issued a $80.00 price objective on shares of Life Storage in a report on Friday, November 24th. KeyCorp reissued a "hold" rating on shares of Life Storage in a research note on Sunday, November 19th. Jefferies Group set a $86.00 target price on Life Storage and gave the stock a "hold" rating in a research note on Tuesday, November 28th. Robert W. Baird cut Life Storage from a "neutral" rating to an "underperform" rating and set a $92.00 target price for the company. in a research note on Thursday, January 25th. Finally, Cantor Fitzgerald boosted their target price on Life Storage from $73.00 to $81.00 and gave the stock a "neutral" rating in a research note on Friday, November 10th. Six analysts have rated the stock with a sell rating, ten have assigned a hold rating and one has issued a strong buy rating to the stock. Life Storage currently has an average rating of "Hold" and an average target price of $81.79.
ILLEGAL ACTIVITY NOTICE: This report was originally reported by American Banking News and is owned by of American Banking News. If you are accessing this report on another site, it was stolen and republished in violation of United States & international copyright & trademark law. The original version of this report can be viewed at https://www.americanbankingnews.com/2018/02/14/life-storage-lsi-to-release-earnings-on-wednesday.html.
About Life Storage
Life Storage, Inc, formerly Sovran Self Storage, Inc, is a self-administered and self-managed real estate company. The Company acquires, owns and manages self-storage properties. The Company owns its assets and conducts its operations through Life Storage LP (the Operating Partnership) and subsidiaries of the Operating Partnership.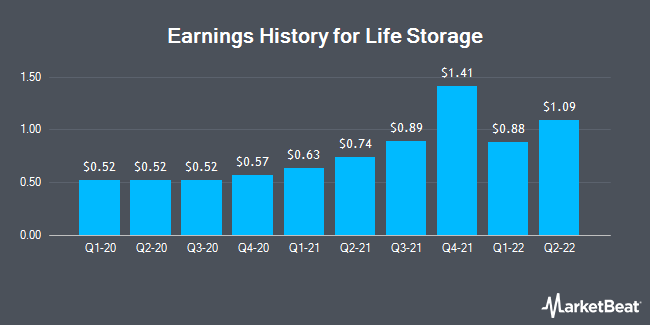 Receive News & Ratings for Life Storage Daily - Enter your email address below to receive a concise daily summary of the latest news and analysts' ratings for Life Storage and related companies with MarketBeat.com's FREE daily email newsletter.