Medifast (NYSE:MED) is scheduled to be releasing its earnings data after the market closes on Wednesday, February 21st. Analysts expect Medifast to post earnings of $0.48 per share for the quarter.
Shares of Medifast (MED) opened at $66.85 on Wednesday. Medifast has a 12-month low of $40.00 and a 12-month high of $74.78. The company has a market capitalization of $797.76, a PE ratio of 32.77, a PEG ratio of 1.71 and a beta of 0.54.
The firm also recently announced a quarterly dividend, which was paid on Thursday, February 8th. Stockholders of record on Friday, December 22nd were given a dividend of $0.48 per share. The ex-dividend date of this dividend was Thursday, December 21st. This is a boost from Medifast's previous quarterly dividend of $0.32. This represents a $1.92 dividend on an annualized basis and a dividend yield of 2.87%. Medifast's dividend payout ratio (DPR) is 94.12%.
In related news, Director Glenn W. Welling sold 275,000 shares of Medifast stock in a transaction dated Friday, December 1st. The stock was sold at an average price of $64.60, for a total value of $17,765,000.00. The transaction was disclosed in a legal filing with the SEC, which is available through
this hyperlink
. Insiders own 5.40% of the company's stock.
A number of research firms have recently commented on MED. Zacks Investment Research upgraded Medifast from a "hold" rating to a "buy" rating and set a $81.00 target price on the stock in a research report on Saturday, January 13th. DA Davidson raised their target price on Medifast to $89.00 and gave the company a "buy" rating in a research report on Friday, December 8th. Finally, ValuEngine cut Medifast from a "buy" rating to a "hold" rating in a research report on Friday, December 1st. Three research analysts have rated the stock with a hold rating and two have assigned a buy rating to the company. The stock currently has a consensus rating of "Hold" and a consensus target price of $75.00.
ILLEGAL ACTIVITY NOTICE: "Medifast (MED) to Release Earnings on Wednesday" was first posted by American Banking News and is the sole property of of American Banking News. If you are accessing this report on another website, it was stolen and reposted in violation of US & international copyright laws. The legal version of this report can be viewed at https://www.americanbankingnews.com/2018/02/14/medifast-med-to-release-earnings-on-wednesday.html.
About Medifast
Medifast, Inc produces, distributes and sells weight loss, weight management, and healthy living products, and other consumable health and nutritional products. The Company's product lines include weight loss, weight management, and healthy living meal replacements, snacks, hydration products, and vitamins.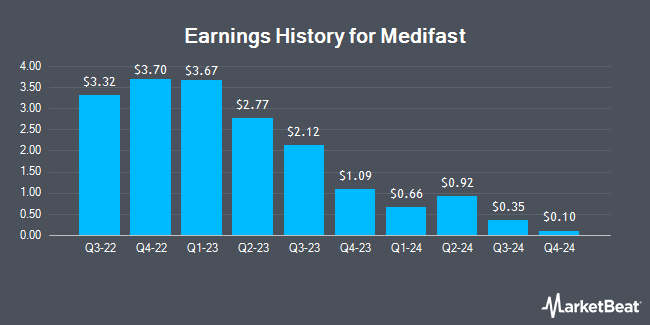 Receive News & Ratings for Medifast Daily - Enter your email address below to receive a concise daily summary of the latest news and analysts' ratings for Medifast and related companies with MarketBeat.com's FREE daily email newsletter.