Neenah Paper (NYSE:NP) issued its quarterly earnings results on Wednesday. The basic materials company reported $1.06 earnings per share (EPS) for the quarter, topping analysts' consensus estimates of $0.91 by $0.15, RTT News reports. Neenah Paper had a net margin of 8.13% and a return on equity of 20.48%. The business had revenue of $244.00 million for the quarter, compared to analyst estimates of $233.85 million. During the same period in the previous year, the business posted $1.10 earnings per share. The business's revenue was up 10.7% compared to the same quarter last year.
Neenah Paper (NP) opened at $85.40 on Thursday. The company has a current ratio of 2.52, a quick ratio of 1.44 and a debt-to-equity ratio of 0.56. Neenah Paper has a 1 year low of $72.35 and a 1 year high of $95.40. The firm has a market cap of $1,429.56, a PE ratio of 18.81, a price-to-earnings-growth ratio of 3.56 and a beta of 1.17.
The business also recently announced a quarterly dividend, which will be paid on Friday, March 2nd. Shareholders of record on Friday, February 16th will be given a dividend of $0.41 per share. This is a positive change from Neenah Paper's previous quarterly dividend of $0.37. This represents a $1.64 annualized dividend and a yield of 1.92%. The ex-dividend date of this dividend is Thursday, February 15th. Neenah Paper's dividend payout ratio is presently 32.60%.
Neenah Paper declared that its Board of Directors has authorized a stock repurchase program on Wednesday, November 29th that authorizes the company to buyback $25.00 million in outstanding shares. This buyback authorization authorizes the basic materials company to repurchase shares of its stock through open market purchases. Stock buyback programs are usually a sign that the company's management believes its stock is undervalued.
A number of brokerages have recently issued reports on NP. DA Davidson reiterated a "neutral" rating on shares of Neenah Paper in a research note on Thursday, November 9th. Zacks Investment Research upgraded shares of Neenah Paper from a "hold" rating to a "buy" rating and set a $102.00 target price on the stock in a research report on Wednesday, January 10th.
In other Neenah Paper news, Director Timothy S. Lucas sold 2,000 shares of the company's stock in a transaction dated Thursday, December 14th. The shares were sold at an average price of $87.90, for a total transaction of $175,800.00. Following the transaction, the director now directly owns 15,693 shares in the company, valued at $1,379,414.70. The sale was disclosed in a document filed with the Securities & Exchange Commission, which is available at this link. Also, insider Byron Jason Racki sold 1,107 shares of the company's stock in a transaction dated Friday, November 17th. The stock was sold at an average price of $88.13, for a total transaction of $97,559.91. Following the transaction, the insider now owns 2,595 shares in the company, valued at $228,697.35. The disclosure for this sale can be found here. Insiders have sold 20,563 shares of company stock worth $1,872,990 over the last 90 days. 2.00% of the stock is currently owned by company insiders.
TRADEMARK VIOLATION NOTICE: This article was originally reported by American Banking News and is owned by of American Banking News. If you are accessing this article on another website, it was illegally copied and republished in violation of U.S. and international copyright and trademark law. The original version of this article can be accessed at https://www.americanbankingnews.com/2018/02/14/neenah-paper-np-posts-earnings-results.html.
About Neenah Paper
Neenah, Inc, formerly Neenah Paper, Inc, is a materials company focused in niche markets. The Company has two primary businesses: technical products, and fine paper and packaging. The technical products business is an international producer of transportation, water and other filtration media, digital transfer materials, tape and abrasive backings, labels and other performance-oriented substrates.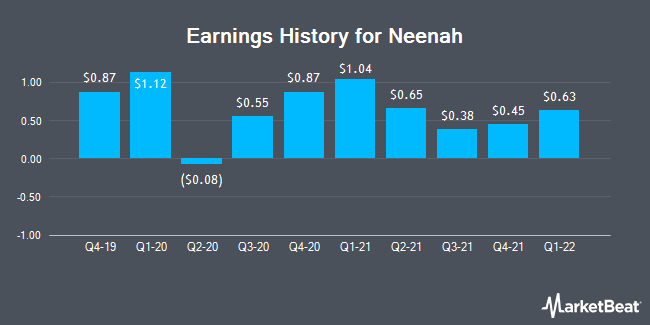 Receive News & Ratings for Neenah Paper Daily - Enter your email address below to receive a concise daily summary of the latest news and analysts' ratings for Neenah Paper and related companies with MarketBeat.com's FREE daily email newsletter.