Newell Brands Inc (NYSE:NWL) declared a quarterly dividend on Wednesday, February 14th, RTT News reports. Stockholders of record on Wednesday, February 28th will be given a dividend of 0.23 per share on Thursday, March 15th. This represents a $0.92 dividend on an annualized basis and a dividend yield of 3.38%.
Newell Brands has increased its dividend by an average of 10.1% per year over the last three years. Newell Brands has a dividend payout ratio of 32.7% meaning its dividend is sufficiently covered by earnings. Equities research analysts expect Newell Brands to earn $2.70 per share next year, which means the company should continue to be able to cover its $0.92 annual dividend with an expected future payout ratio of 34.1%.
Newell Brands (NYSE NWL) traded up $0.60 on Wednesday, hitting $27.20. The stock had a trading volume of 7,710,575 shares, compared to its average volume of 12,121,093. The company has a market capitalization of $13,379.73, a PE ratio of 10.50, a price-to-earnings-growth ratio of 1.29 and a beta of 0.90. Newell Brands has a 1 year low of $23.85 and a 1 year high of $55.08. The company has a debt-to-equity ratio of 0.80, a quick ratio of 0.86 and a current ratio of 1.46.
A number of research analysts have recently commented on NWL shares. KeyCorp reaffirmed a "buy" rating and set a $32.00 target price (down previously from $40.00) on shares of Newell Brands in a research note on Monday, January 29th. FIX reiterated a "hold" rating and issued a $23.00 price target on shares of Newell Brands in a report on Thursday, February 8th. Jefferies Group reiterated a "hold" rating and issued a $32.00 price target on shares of Newell Brands in a report on Thursday, January 25th. JPMorgan Chase & Co. lowered Newell Brands from an "overweight" rating to a "neutral" rating and boosted their price target for the company from $56.00 to $63.00 in a report on Thursday, November 2nd. Finally, Oppenheimer reiterated a "hold" rating and issued a $42.00 price target on shares of Newell Brands in a report on Tuesday, October 31st. Two investment analysts have rated the stock with a sell rating, thirteen have assigned a hold rating and six have issued a buy rating to the stock. The stock has an average rating of "Hold" and a consensus target price of $39.18.
In related news, CEO Michael B. Polk bought 7,000 shares of the stock in a transaction on Monday, November 20th. The stock was bought at an average price of $28.22 per share, for a total transaction of $197,540.00. Following the completion of the acquisition, the chief executive officer now directly owns 616,296 shares in the company, valued at $17,391,873.12. The acquisition was disclosed in a legal filing with the Securities & Exchange Commission, which is accessible through this hyperlink. 0.97% of the stock is owned by corporate insiders.
Newell Brands declared that its board has approved a share repurchase plan on Thursday, November 2nd that allows the company to buyback $1.00 billion in outstanding shares. This buyback authorization allows the company to reacquire shares of its stock through open market purchases. Shares buyback plans are typically an indication that the company's board believes its stock is undervalued.
TRADEMARK VIOLATION NOTICE: This story was originally reported by American Banking News and is the property of of American Banking News. If you are viewing this story on another website, it was illegally stolen and republished in violation of United States & international copyright law. The correct version of this story can be accessed at https://www.americanbankingnews.com/2018/02/14/newell-brands-inc-to-issue-quarterly-dividend-of-0-23-nwl.html.
Newell Brands Company Profile
Newell Brands Inc is a marketer of consumer and commercial products. The Company's segments include Writing, Home Solutions, Commercial Products, Baby & Parenting, Branded Consumables, Consumer Solutions, Outdoor Solutions and Process Solutions. Its products are marketed under a portfolio of brands, including Paper Mate, Sharpie, Dymo, Expo, Parker, Elmer's, Coleman, Jostens, Marmot, Rawlings, Mr.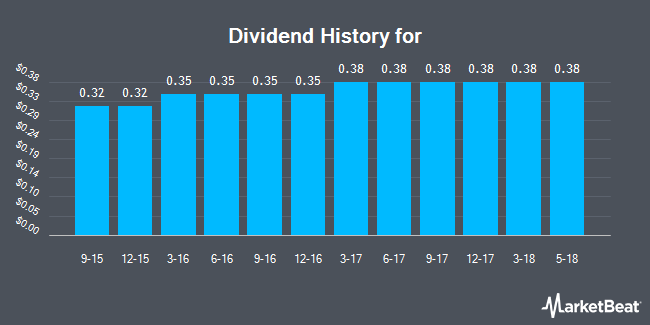 Receive News & Ratings for Newell Brands Daily - Enter your email address below to receive a concise daily summary of the latest news and analysts' ratings for Newell Brands and related companies with MarketBeat.com's FREE daily email newsletter.