Nuvista Energy (TSE:NVA) was upgraded by stock analysts at National Bank Financial from a "sector perform" rating to an "outperform" rating in a report released on Wednesday. The firm currently has a C$10.00 price objective on the stock, up from their prior price objective of C$9.00. National Bank Financial's target price points to a potential upside of 24.07% from the company's current price.
Other equities analysts have also recently issued research reports about the company. Desjardins raised their price target on Nuvista Energy from C$10.75 to C$11.50 in a report on Wednesday. Eight Capital upgraded Nuvista Energy from a "neutral" rating to a "buy" rating and raised their target price for the stock from C$9.00 to C$10.25 in a report on Wednesday, November 1st. BMO Capital Markets raised their target price on Nuvista Energy from C$8.00 to C$9.00 and gave the stock a "market perform" rating in a report on Wednesday, November 1st. Finally, Royal Bank of Canada reduced their target price on Nuvista Energy from C$10.00 to C$9.00 and set an "outperform" rating on the stock in a report on Wednesday, November 1st. Eight investment analysts have rated the stock with a buy rating, Nuvista Energy currently has an average rating of "Buy" and a consensus target price of C$9.53.
Nuvista Energy (TSE NVA) traded up C$0.23 during trading on Wednesday, reaching C$8.06. The company had a trading volume of 468,954 shares, compared to its average volume of 505,982. The company has a market capitalization of $1,430.00, a PE ratio of 22.97 and a beta of 0.37. Nuvista Energy has a fifty-two week low of C$5.33 and a fifty-two week high of C$9.16.
In related news, Director Deborah Susan Stein bought 3,450 shares of Nuvista Energy stock in a transaction on Wednesday, December 6th. The shares were purchased at an average price of C$8.00 per share, for a total transaction of C$27,600.00.
ILLEGAL ACTIVITY WARNING: This news story was originally reported by American Banking News and is the sole property of of American Banking News. If you are accessing this news story on another site, it was stolen and reposted in violation of United States & international copyright & trademark law. The legal version of this news story can be viewed at https://www.americanbankingnews.com/2018/02/14/nuvista-energy-nva-lifted-to-outperform-at-national-bank-financial.html.
Nuvista Energy Company Profile
NuVista Energy Ltd. (NuVista) is an exploration and production company, which is engaged in exploration, development and production of oil and natural gas reserves in the Western Canadian Sedimentary Basin. The Company's primary focus is on Montney formation in the Alberta Deep Basin (Wapiti Montney).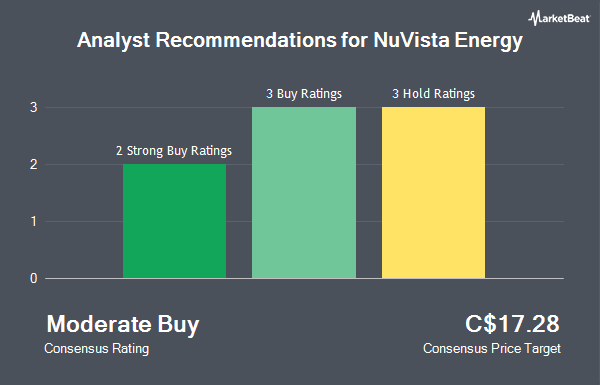 Receive News & Ratings for Nuvista Energy Daily - Enter your email address below to receive a concise daily summary of the latest news and analysts' ratings for Nuvista Energy and related companies with MarketBeat.com's FREE daily email newsletter.