PDL BioPharma (NASDAQ:PDLI) will be releasing its earnings data after the market closes on Wednesday, February 21st. Analysts expect PDL BioPharma to post earnings of $0.11 per share for the quarter.
PDL BioPharma (PDLI) opened at $2.43 on Wednesday. PDL BioPharma has a 12 month low of $1.96 and a 12 month high of $3.55. The company has a quick ratio of 3.10, a current ratio of 3.16 and a debt-to-equity ratio of 0.14. The stock has a market capitalization of $373.50, a P/E ratio of 4.86 and a beta of 0.48.
Several brokerages have issued reports on PDLI. ValuEngine raised PDL BioPharma from a "hold" rating to a "buy" rating in a research note on Saturday, November 25th. Zacks Investment Research lowered PDL BioPharma from a "buy" rating to a "hold" rating in a research note on Monday, January 8th. Cowen reissued a "hold" rating and issued a $3.00 price target on shares of PDL BioPharma in a research note on Friday, October 27th. Finally, BidaskClub lowered PDL BioPharma from a "sell" rating to a "strong sell" rating in a research note on Tuesday. One investment analyst has rated the stock with a sell rating, two have issued a hold rating and two have issued a buy rating to the stock. The stock has an average rating of "Hold" and an average price target of $3.33.
TRADEMARK VIOLATION WARNING: "PDL BioPharma (PDLI) to Release Earnings on Wednesday" was originally posted by American Banking News and is the sole property of of American Banking News. If you are accessing this piece of content on another site, it was copied illegally and reposted in violation of U.S. and international copyright and trademark laws. The correct version of this piece of content can be viewed at https://www.americanbankingnews.com/2018/02/14/pdl-biopharma-pdli-to-release-earnings-on-wednesday.html.
PDL BioPharma Company Profile
PDL BioPharma, Inc seeks to provide return for its shareholders by acquiring and managing a portfolio of companies, products, royalty agreements and debt facilities in the biotechnology, pharmaceutical and medical device industries. The Company's segments include income generating assets and product sales.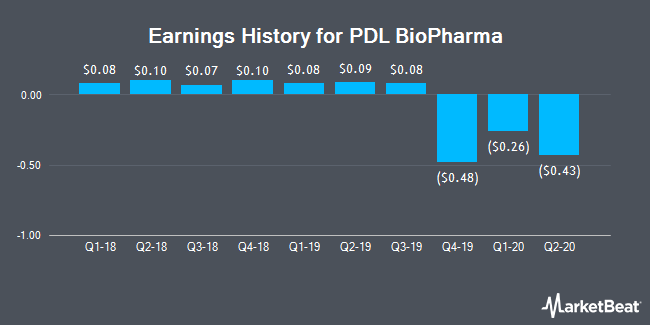 Receive News & Ratings for PDL BioPharma Daily - Enter your email address below to receive a concise daily summary of the latest news and analysts' ratings for PDL BioPharma and related companies with MarketBeat.com's FREE daily email newsletter.