PolyOne Co. (NYSE:POL) announced a quarterly dividend on Wednesday, February 14th, RTT News reports. Shareholders of record on Tuesday, March 20th will be paid a dividend of 0.175 per share by the specialty chemicals company on Thursday, April 5th. This represents a $0.70 dividend on an annualized basis and a yield of 1.67%.
PolyOne has raised its dividend payment by an average of 19.1% annually over the last three years and has raised its dividend annually for the last 6 consecutive years. PolyOne has a payout ratio of 32.0% meaning its dividend is sufficiently covered by earnings. Equities research analysts expect PolyOne to earn $2.84 per share next year, which means the company should continue to be able to cover its $0.70 annual dividend with an expected future payout ratio of 24.6%.
Shares of PolyOne (POL) traded up $0.79 during trading hours on Wednesday, reaching $41.89. The company's stock had a trading volume of 412,416 shares, compared to its average volume of 449,716. The company has a current ratio of 1.87, a quick ratio of 1.29 and a debt-to-equity ratio of 2.13. PolyOne has a 12-month low of $32.43 and a 12-month high of $47.48. The firm has a market cap of $3,296.00, a price-to-earnings ratio of 18.46, a price-to-earnings-growth ratio of 1.57 and a beta of 1.75.
PolyOne (NYSE:POL) last released its quarterly earnings data on Friday, January 26th. The specialty chemicals company reported $0.41 earnings per share for the quarter, beating the consensus estimate of $0.39 by $0.02. The business had revenue of $801.00 million for the quarter, compared to analyst estimates of $739.77 million. PolyOne had a positive return on equity of 29.46% and a negative net margin of 1.73%. The company's revenue was up 1.7% compared to the same quarter last year. During the same period in the previous year, the company posted $0.38 EPS. equities analysts predict that PolyOne will post 2.54 earnings per share for the current year.
Several equities analysts have recently weighed in on the company. KeyCorp reaffirmed a "buy" rating and issued a $50.00 price objective on shares of PolyOne in a research note on Monday, January 29th. Northcoast Research reaffirmed a "neutral" rating on shares of PolyOne in a research note on Monday, January 29th. Oppenheimer reaffirmed a "buy" rating and issued a $47.00 price objective on shares of PolyOne in a research note on Tuesday, January 23rd. ValuEngine raised PolyOne from a "hold" rating to a "buy" rating in a research note on Friday, February 2nd. Finally, SunTrust Banks reaffirmed a "buy" rating on shares of PolyOne in a research note on Monday, January 29th. Five analysts have rated the stock with a hold rating and five have issued a buy rating to the company. PolyOne presently has an average rating of "Buy" and a consensus target price of $45.71.
ILLEGAL ACTIVITY NOTICE: This report was first published by American Banking News and is owned by of American Banking News. If you are viewing this report on another website, it was illegally stolen and republished in violation of U.S. and international copyright and trademark laws. The legal version of this report can be accessed at https://www.americanbankingnews.com/2018/02/14/polyone-co-announces-quarterly-dividend-of-0-18-pol.html.
PolyOne Company Profile
PolyOne Corporation (PolyOne) provides specialized polymer materials, services and solutions. The Company's segments include Color, Additives and Inks; Specialty Engineered Materials; Performance Products and Solutions, and PolyOne Distribution. The Color, Additives and Inks segment provides custom color and additive concentrates in solid and liquid form for thermoplastics, dispersions for thermosets.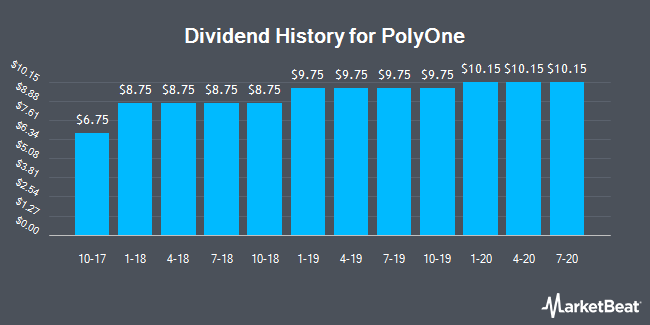 Receive News & Ratings for PolyOne Daily - Enter your email address below to receive a concise daily summary of the latest news and analysts' ratings for PolyOne and related companies with MarketBeat.com's FREE daily email newsletter.