ProAssurance (NYSE:PRA) will release its earnings data after the market closes on Wednesday, February 21st. Analysts expect ProAssurance to post earnings of $0.62 per share for the quarter.
Shares of ProAssurance (NYSE PRA) opened at $51.70 on Wednesday. The company has a debt-to-equity ratio of 0.22, a current ratio of 0.40 and a quick ratio of 0.40. ProAssurance has a 1 year low of $50.35 and a 1 year high of $63.45. The stock has a market cap of $2,745.54, a P/E ratio of 22.35 and a beta of 0.47.
In other ProAssurance news, Chairman William Stancil Starnes sold 2,442 shares of the stock in a transaction that occurred on Wednesday, January 10th. The shares were sold at an average price of $55.00, for a total value of $134,310.00. Following the completion of the sale, the chairman now owns 324,895 shares of the company's stock, valued at $17,869,225. The sale was disclosed in a filing with the Securities & Exchange Commission, which can be accessed through this hyperlink. Insiders sold 39,074 shares of company stock valued at $2,149,329 in the last ninety days. 1.80% of the stock is owned by corporate insiders.
PRA has been the subject of several recent research reports. Boenning Scattergood reaffirmed a "hold" rating on shares of ProAssurance in a research report on Tuesday, November 7th.
Zacks Investment Research
raised shares of ProAssurance from a "sell" rating to a "hold" rating in a research report on Wednesday, November 8th. Finally, Keefe, Bruyette & Woods reaffirmed a "hold" rating and issued a $61.00 price objective on shares of ProAssurance in a research report on Wednesday, December 6th. One investment analyst has rated the stock with a sell rating and four have given a hold rating to the company's stock. ProAssurance has an average rating of "Hold" and an average target price of $59.33.
COPYRIGHT VIOLATION NOTICE: This piece of content was originally published by American Banking News and is owned by of American Banking News. If you are accessing this piece of content on another publication, it was illegally copied and republished in violation of US and international copyright laws. The original version of this piece of content can be read at https://www.americanbankingnews.com/2018/02/14/proassurance-pra-scheduled-to-post-earnings-on-wednesday.html.
About ProAssurance
ProAssurance Corporation (ProAssurance) is a holding company for property and casualty insurance companies. The Company provides professional liability insurance for healthcare professionals and facilities, professional liability insurance for attorneys, liability insurance for medical technology and life sciences risks, and workers' compensation insurance.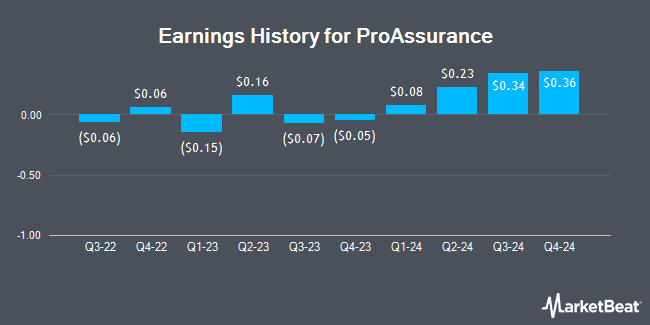 Receive News & Ratings for ProAssurance Daily - Enter your email address below to receive a concise daily summary of the latest news and analysts' ratings for ProAssurance and related companies with MarketBeat.com's FREE daily email newsletter.