Redwood Trust (NYSE:RWT) is scheduled to post its quarterly earnings results on Wednesday, February 21st. Analysts expect Redwood Trust to post earnings of $0.35 per share for the quarter.
Shares of Redwood Trust (NYSE:RWT) opened at $14.80 on Wednesday. Redwood Trust has a twelve month low of $14.29 and a twelve month high of $17.45. The company has a current ratio of 3.36, a quick ratio of 3.36 and a debt-to-equity ratio of 2.91. The firm has a market cap of $1,140.00, a P/E ratio of 10.72 and a beta of 0.79.
A number of analysts have recently weighed in on the stock. Zacks Investment Research raised shares of Redwood Trust from a "strong sell" rating to a "hold" rating in a report on Wednesday, January 10th. ValuEngine downgraded shares of Redwood Trust from a "buy" rating to a "hold" rating in a report on Friday, November 10th. Deutsche Bank cut their price target on shares of Redwood Trust from $18.50 to $17.00 and set a "buy" rating for the company in a report on Wednesday, November 8th. Finally, Keefe, Bruyette & Woods raised shares of Redwood Trust from a "market perform" rating to an "outperform" rating in a report on Thursday, December 7th. One research analyst has rated the stock with a hold rating and four have issued a buy rating to the company's stock. Redwood Trust presently has an average rating of "Buy" and an average target price of $17.00.
In related news, General Counsel Andrew P. Stone sold 5,000 shares of the stock in a transaction that occurred on Wednesday, December 20th. The shares were sold at an average price of $14.87, for a total value of $74,350.00. Following the completion of the transaction, the general counsel now owns 53,015 shares of the company's stock, valued at approximately $788,333.05. The sale was disclosed in a legal filing with the SEC, which is available through
the SEC website
. 2.33% of the stock is owned by corporate insiders.
COPYRIGHT VIOLATION WARNING: This article was first published by American Banking News and is owned by of American Banking News. If you are reading this article on another publication, it was copied illegally and reposted in violation of US & international copyright & trademark laws. The legal version of this article can be viewed at https://www.americanbankingnews.com/2018/02/14/redwood-trust-rwt-to-release-earnings-on-wednesday.html.
Redwood Trust Company Profile
Redwood Trust, Inc, through its subsidiaries, focuses on investing in mortgage and other real estate related assets. The Company is engaged in mortgage banking activities. The Company operates through three segments: Residential Investments, Residential Mortgage Banking and Commercial. The Residential Investments segment includes a portfolio of investments in residential mortgage-backed securities (RMBS) retained from its Sequoia securitizations.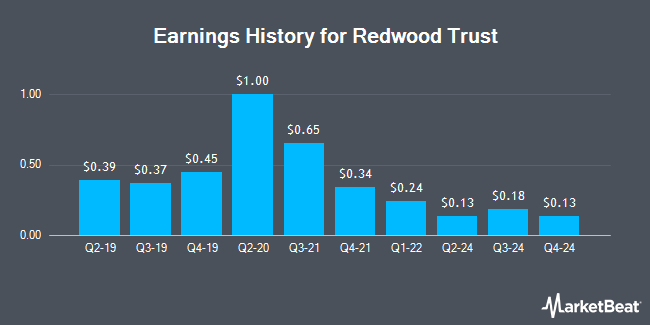 Receive News & Ratings for Redwood Trust Daily - Enter your email address below to receive a concise daily summary of the latest news and analysts' ratings for Redwood Trust and related companies with MarketBeat.com's FREE daily email newsletter.