RTI Surgical (NASDAQ:RTIX) is scheduled to be releasing its earnings data before the market opens on Wednesday, February 21st. Analysts expect RTI Surgical to post earnings of $0.03 per share for the quarter.
Shares of RTI Surgical (NASDAQ:RTIX) opened at $4.50 on Wednesday. The company has a market cap of $273.75, a P/E ratio of -64.29, a PEG ratio of 1.96 and a beta of 1.71. The company has a current ratio of 3.34, a quick ratio of 1.21 and a debt-to-equity ratio of 0.25. RTI Surgical has a 12-month low of $3.01 and a 12-month high of $6.00.
Separately, BidaskClub lowered shares of RTI Surgical from a "hold" rating to a "sell" rating in a research report on Tuesday, December 5th.
COPYRIGHT VIOLATION WARNING: "RTI Surgical (RTIX) Set to Announce Earnings on Wednesday" was posted by American Banking News and is the sole property of of American Banking News. If you are viewing this piece of content on another publication, it was illegally copied and reposted in violation of United States & international copyright laws. The original version of this piece of content can be read at https://www.americanbankingnews.com/2018/02/14/rti-surgical-rtix-set-to-announce-earnings-on-wednesday.html.
RTI Surgical Company Profile
RTI Surgical, Inc is engaged in producing orthopedic and other surgical implants that repair and promote the natural healing of human bone and other human tissues. The Company uses natural tissues, metals and synthetics process to produce its products. The Company's business primarily consists of six categories, such as spine, sports medicine, ortho fixation, bone graft substitutes and general orthopedic (BGS and general orthopedic), dental and surgical specialties.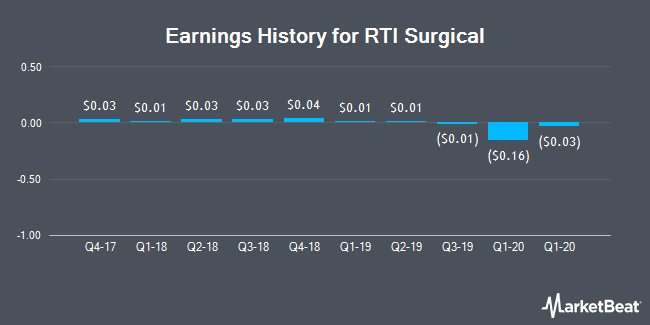 Receive News & Ratings for RTI Surgical Daily - Enter your email address below to receive a concise daily summary of the latest news and analysts' ratings for RTI Surgical and related companies with MarketBeat.com's FREE daily email newsletter.