Superior Uniform Group (NASDAQ:SGC) is scheduled to release its earnings data before the market opens on Wednesday, February 21st. Analysts expect Superior Uniform Group to post earnings of $0.29 per share for the quarter.
Shares of Superior Uniform Group (NASDAQ:SGC) opened at $24.33 on Wednesday. Superior Uniform Group has a 52-week low of $16.67 and a 52-week high of $28.85. The company has a market capitalization of $356.70, a price-to-earnings ratio of 20.62, a PEG ratio of 1.38 and a beta of -0.15. The company has a debt-to-equity ratio of 0.26, a quick ratio of 1.99 and a current ratio of 4.00.
The business also recently disclosed a quarterly dividend, which will be paid on Wednesday, February 28th. Stockholders of record on Wednesday, February 14th will be given a dividend of $0.095 per share. The ex-dividend date of this dividend is Tuesday, February 13th. This represents a $0.38 dividend on an annualized basis and a dividend yield of 1.56%. Superior Uniform Group's dividend payout ratio (DPR) is presently 32.20%.
A hedge fund recently raised its stake in Superior Uniform Group stock. State Street Corp raised its position in shares of Superior Uniform Group Inc (NASDAQ:SGC) by 11.4% during the 2nd quarter, according to the company in its most recent 13F filing with the Securities & Exchange Commission. The firm owned 113,255 shares of the textile maker's stock after purchasing an additional 11,632 shares during the quarter. State Street Corp owned 0.77% of Superior Uniform Group worth $2,531,000 at the end of the most recent quarter. 36.34% of the stock is currently owned by institutional investors.
Separately, BidaskClub downgraded shares of Superior Uniform Group from a "buy" rating to a "hold" rating in a research note on Friday, January 26th.
TRADEMARK VIOLATION NOTICE: This story was posted by American Banking News and is the sole property of of American Banking News. If you are accessing this story on another publication, it was copied illegally and republished in violation of U.S. & international trademark & copyright legislation. The legal version of this story can be accessed at https://www.americanbankingnews.com/2018/02/14/superior-uniform-group-sgc-set-to-announce-earnings-on-wednesday.html.
About Superior Uniform Group
Superior Uniform Group, Inc (Superior) manufactures and sells a range of uniforms, corporate identity apparel, career apparel and accessories for the medical and health fields, as well as for the industrial, commercial, leisure and public safety markets. Superior operates through two segments: Uniforms and Related Products, and Remote Staffing Solutions.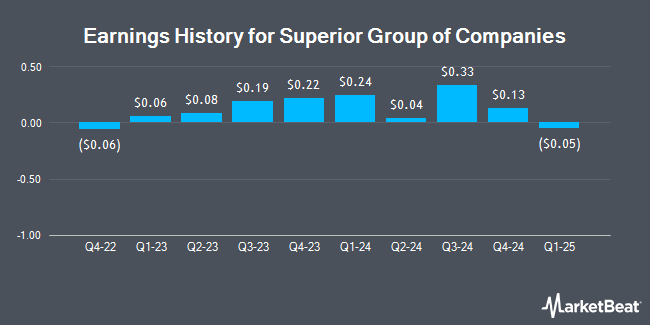 Receive News & Ratings for Superior Uniform Group Daily - Enter your email address below to receive a concise daily summary of the latest news and analysts' ratings for Superior Uniform Group and related companies with MarketBeat.com's FREE daily email newsletter.