Tenaris (NYSE:TS) is set to release its earnings data after the market closes on Wednesday, February 21st. Analysts expect Tenaris to post earnings of $0.20 per share for the quarter.
Tenaris (NYSE:TS) opened at $31.70 on Wednesday. Tenaris has a 12-month low of $25.91 and a 12-month high of $36.33. The stock has a market capitalization of $18,320.00, a price-to-earnings ratio of 66.04 and a beta of 0.74.
A number of research firms have recently issued reports on TS. Cowen set a $33.00 price target on Tenaris and gave the stock a "hold" rating in a research report on Thursday, January 11th. TheStreet raised Tenaris from a "c" rating to a "b-" rating in a research report on Tuesday, December 12th. Barclays began coverage on Tenaris in a research report on Wednesday, December 20th. They set an "overweight" rating and a $39.00 price target on the stock. Loop Capital increased their price target on Tenaris from $36.00 to $37.00 and gave the stock a "buy" rating in a research report on Friday, November 3rd. Finally, Macquarie raised Tenaris from an "underperform" rating to a "neutral" rating in a research report on Friday, November 17th. One research analyst has rated the stock with a sell rating, four have assigned a hold rating, six have issued a buy rating and one has issued a strong buy rating to the stock. Tenaris presently has a consensus rating of "Buy" and a consensus target price of $36.39.
COPYRIGHT VIOLATION NOTICE: "Tenaris (TS) Set to Announce Earnings on Wednesday" was first published by American Banking News and is the property of of American Banking News. If you are viewing this piece on another domain, it was stolen and reposted in violation of United States & international copyright and trademark legislation. The original version of this piece can be accessed at https://www.americanbankingnews.com/2018/02/14/tenaris-ts-set-to-announce-earnings-on-wednesday.html.
About Tenaris
Tenaris SA is a holding company, which is a steel producer with production facilities in Mexico, Argentina, Colombia, United States and Guatemala. The Company supplies round steel bars and flat steel products for its pipes business. It operates through Tubes business segment. The Tubes segment includes the production and sale of both seamless and welded steel tubular products, and related services primarily for the oil and gas industry, principally oil country tubular goods (OCTG) used in drilling operations, and for other industrial applications with production processes that include in the transformation of steel into tubular products.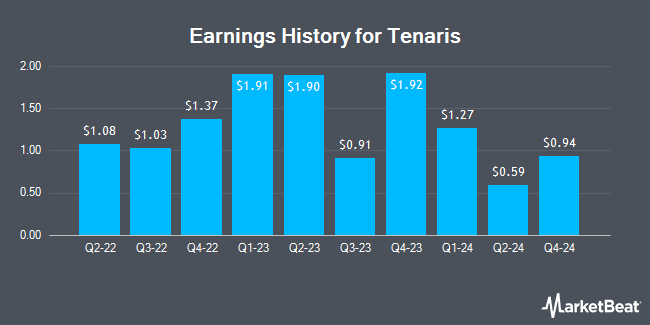 Receive News & Ratings for Tenaris Daily - Enter your email address below to receive a concise daily summary of the latest news and analysts' ratings for Tenaris and related companies with MarketBeat.com's FREE daily email newsletter.