Third Point Reinsurance (NYSE:TPRE) will be releasing its earnings data after the market closes on Wednesday, February 21st. Analysts expect Third Point Reinsurance to post earnings of $0.68 per share for the quarter.
Shares of Third Point Reinsurance (NYSE:TPRE) opened at $13.75 on Wednesday. Third Point Reinsurance has a 52-week low of $11.45 and a 52-week high of $17.10. The firm has a market capitalization of $1,480.00, a price-to-earnings ratio of 7.72, a PEG ratio of 0.40 and a beta of 1.17. The company has a debt-to-equity ratio of 0.07, a quick ratio of 0.68 and a current ratio of 0.68.
Several research firms have recently weighed in on TPRE. Zacks Investment Research upgraded Third Point Reinsurance from a "sell" rating to a "hold" rating in a research report on Tuesday, February 6th. Keefe, Bruyette & Woods reiterated a "hold" rating and set a $19.00 target price on shares of Third Point Reinsurance in a research report on Wednesday, December 6th. Morgan Stanley lifted their target price on Third Point Reinsurance from $15.00 to $17.00 and gave the stock an "equal weight" rating in a research report on Friday, November 10th. Finally, ValuEngine downgraded Third Point Reinsurance from a "strong-buy" rating to a "buy" rating in a research report on Thursday, December 7th. Four investment analysts have rated the stock with a hold rating and one has given a buy rating to the company's stock. The stock has a consensus rating of "Hold" and a consensus target price of $17.33.
In other news, major shareholder Tp Holdings L.P. Kia sold 15,000,000 shares of the firm's stock in a transaction on Thursday, November 16th. The stock was sold at an average price of $15.57, for a total transaction of $233,550,000.00. The sale was disclosed in a document filed with the SEC, which is accessible through
this link
. 36.93% of the stock is currently owned by company insiders.
WARNING: This story was originally posted by American Banking News and is the property of of American Banking News. If you are viewing this story on another domain, it was illegally stolen and republished in violation of United States and international trademark & copyright law. The correct version of this story can be viewed at https://www.americanbankingnews.com/2018/02/14/third-point-reinsurance-tpre-set-to-announce-earnings-on-wednesday.html.
Third Point Reinsurance Company Profile
Third Point Reinsurance Ltd. is a holding company. Through the Company's reinsurance subsidiaries, it provides property and casualty reinsurance coverage to insurance and reinsurance companies. The Company's segments include Property and Casualty Reinsurance, and Corporate. The Company's investable assets are managed by its investment manager, Third Point LLC.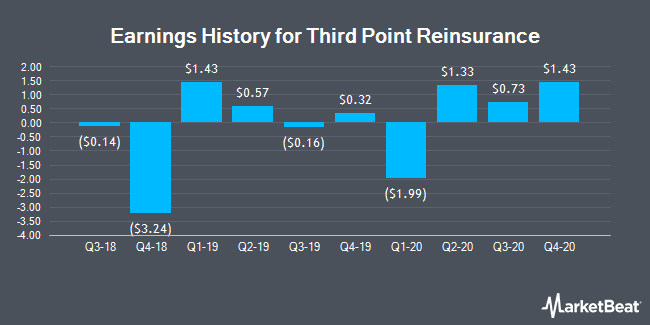 Receive News & Ratings for Third Point Reinsurance Daily - Enter your email address below to receive a concise daily summary of the latest news and analysts' ratings for Third Point Reinsurance and related companies with MarketBeat.com's FREE daily email newsletter.