Bel Fuse (NASDAQ:BELFA) is scheduled to post its quarterly earnings results before the market opens on Thursday, February 22nd.
Bel Fuse (NASDAQ BELFA) opened at $16.20 on Thursday. Bel Fuse has a fifty-two week low of $15.85 and a fifty-two week high of $29.90. The company has a debt-to-equity ratio of 0.59, a current ratio of 2.66 and a quick ratio of 1.59. The firm has a market cap of $197.30, a price-to-earnings ratio of 16.88 and a beta of 0.72.
WARNING: This news story was originally published by American Banking News and is owned by of American Banking News. If you are viewing this news story on another publication, it was illegally copied and republished in violation of U.S. & international copyright and trademark law. The original version of this news story can be read at https://www.americanbankingnews.com/2018/02/15/bel-fuse-belfa-scheduled-to-post-earnings-on-thursday.html.
Bel Fuse Company Profile
Bel Fuse Inc (Bel) designs, manufactures and markets a range of products that power, protect and connect electronic circuits. The Company's products include magnetic solutions, power solutions and protection, and connectivity solutions. The Company's operating segments are North America, Asia and Europe.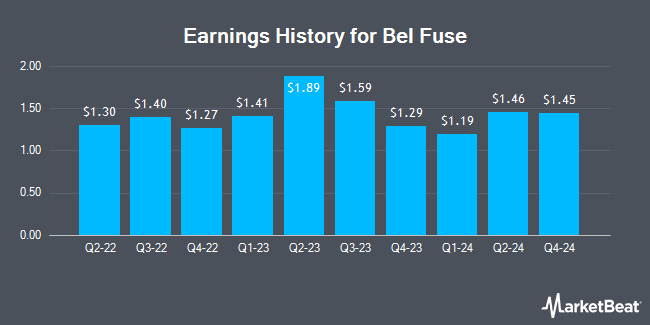 Receive News & Ratings for Bel Fuse Daily - Enter your email address below to receive a concise daily summary of the latest news and analysts' ratings for Bel Fuse and related companies with MarketBeat.com's FREE daily email newsletter.