Boise Cascade (NYSE:BCC) is set to release its earnings data before the market opens on Thursday, February 22nd. Analysts expect Boise Cascade to post earnings of $0.30 per share for the quarter.
Shares of Boise Cascade (NYSE:BCC) opened at $44.05 on Thursday. The company has a debt-to-equity ratio of 0.67, a quick ratio of 1.19 and a current ratio of 2.27. Boise Cascade has a 12 month low of $25.35 and a 12 month high of $45.95. The stock has a market cap of $1,700.00, a PE ratio of 25.32, a PEG ratio of 1.02 and a beta of 2.10.
The company also recently announced a Not Available dividend, which will be paid on Thursday, March 15th. Stockholders of record on Thursday, March 1st will be paid a dividend of $0.07 per share. This represents a dividend yield of 0.00170109356014581%. The ex-dividend date of this dividend is Wednesday, February 28th. Boise Cascade's payout ratio is currently 4.02%.
Several research firms have recently issued reports on BCC. BMO Capital Markets reissued a "hold" rating and set a $36.00 target price on shares of Boise Cascade in a research note on Thursday, January 25th.
Zacks Investment Research
lowered shares of Boise Cascade from a "buy" rating to a "hold" rating in a research note on Thursday, January 4th.
ValuEngine
raised shares of Boise Cascade from a "hold" rating to a "buy" rating in a research note on Sunday, December 31st. Finally, Bank of America increased their target price on shares of Boise Cascade from $44.00 to $46.00 and gave the stock a "hold" rating in a research note on Wednesday, January 24th. One research analyst has rated the stock with a sell rating, four have assigned a hold rating, two have issued a buy rating and one has given a strong buy rating to the stock. The stock presently has an average rating of "Hold" and a consensus target price of $41.20.
ILLEGAL ACTIVITY WARNING: "Boise Cascade (BCC) Set to Announce Earnings on Thursday" was originally posted by American Banking News and is owned by of American Banking News. If you are viewing this report on another publication, it was stolen and republished in violation of U.S. and international trademark & copyright laws. The correct version of this report can be read at https://www.americanbankingnews.com/2018/02/15/boise-cascade-bcc-set-to-announce-earnings-on-thursday.html.
Boise Cascade Company Profile
Boise Cascade Company is an integrated wood products manufacturer and building materials distributor with operations throughout the United States and one manufacturing facility in Canada. The Company is also a producer of engineered wood products (EWP) and plywood in North America. The Company operates through three segments: Wood Products, Building Materials Distribution, and Corporate and Other.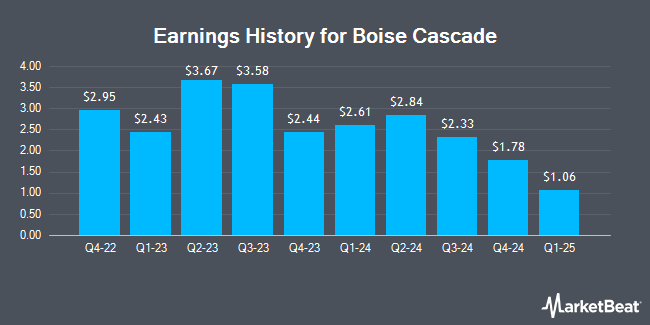 Receive News & Ratings for Boise Cascade Daily - Enter your email address below to receive a concise daily summary of the latest news and analysts' ratings for Boise Cascade and related companies with MarketBeat.com's FREE daily email newsletter.