Cineplex (TSE:CGX) is set to release its earnings data after the market closes on Thursday, February 22nd. Analysts expect Cineplex to post earnings of C$0.51 per share for the quarter.
Shares of Cineplex (TSE CGX) opened at C$32.27 on Thursday. The stock has a market capitalization of $2,100.00, a price-to-earnings ratio of 31.33 and a beta of 0.25. Cineplex has a 52 week low of C$29.25 and a 52 week high of C$54.81.
The firm also recently disclosed a monthly dividend, which will be paid on Wednesday, February 28th. Investors of record on Wednesday, January 31st will be paid a dividend of $0.14 per share. This represents a $1.68 annualized dividend and a yield of 5.21%. The ex-dividend date of this dividend is Tuesday, January 30th. Cineplex's dividend payout ratio is 159.71%.
Several research firms recently issued reports on CGX. National Bank Financial dropped their price objective on Cineplex from C$42.00 to C$40.50 and set a "sector perform" rating for the company in a research note on Wednesday, November 8th. TD Securities lowered their price target on Cineplex from C$52.00 to C$47.00 and set a "buy" rating on the stock in a research report on Wednesday, November 8th. Scotiabank lowered their price target on Cineplex from C$46.00 to C$45.00 and set an "outperform" rating on the stock in a research report on Wednesday, January 10th. Finally, BMO Capital Markets downgraded Cineplex from an "outperform" rating to a "market perform" rating and lowered their price target for the company from C$44.00 to C$37.00 in a research report on Monday, January 15th. One equities research analyst has rated the stock with a hold rating and six have issued a buy rating to the company. The company currently has an average rating of "Buy" and an average price target of C$44.31.
In other news, insider Lorraine Marie Legault purchased 1,625 shares of the stock in a transaction on Friday, December 15th. The shares were acquired at an average price of C$39.82 per share, for a total transaction of C$64,707.50.
WARNING: "Cineplex (CGX) Scheduled to Post Earnings on Thursday" was originally published by American Banking News and is the property of of American Banking News. If you are viewing this report on another website, it was illegally copied and republished in violation of U.S. and international copyright law. The original version of this report can be accessed at https://www.americanbankingnews.com/2018/02/15/cineplex-cgx-scheduled-to-post-earnings-on-thursday.html.
Cineplex Company Profile
Cineplex Inc (Cineplex) is a Canada-based film exhibition company. The Company's segments include Exhibition and Media. The Exhibition segment includes all direct and ancillary revenues from theatre attendance, including box office and food service revenues. The Exhibition segment also includes amusement gaming and leisure, theatre rentals and digital commerce rental and sales.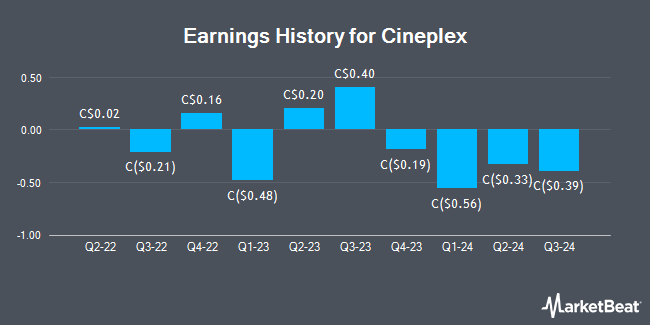 Receive News & Ratings for Cineplex Daily - Enter your email address below to receive a concise daily summary of the latest news and analysts' ratings for Cineplex and related companies with MarketBeat.com's FREE daily email newsletter.