Cognex Co. (NASDAQ:CGNX) declared a quarterly dividend on Thursday, February 15th, RTT News reports. Stockholders of record on Friday, March 2nd will be paid a dividend of 0.045 per share by the scientific and technical instruments company on Friday, March 16th. This represents a $0.18 annualized dividend and a dividend yield of 0.31%.
Cognex (NASDAQ:CGNX) opened at $57.96 on Thursday. The stock has a market capitalization of $9,553.96, a PE ratio of 42.77 and a beta of 1.44. Cognex has a fifty-two week low of $34.59 and a fifty-two week high of $72.99.
Several equities analysts have recently issued reports on the company. Deutsche Bank set a $80.00 price objective on Cognex and gave the company a "buy" rating in a report on Friday, January 19th. JPMorgan Chase & Co. cut Cognex from a "neutral" rating to an "underweight" rating and set a $62.50 price objective for the company. in a report on Wednesday, November 8th. BidaskClub raised Cognex from a "hold" rating to a "buy" rating in a report on Wednesday, January 10th. ValuEngine cut Cognex from a "hold" rating to a "sell" rating in a report on Thursday, December 7th. Finally, Robert W. Baird boosted their price objective on Cognex from $50.00 to $62.00 and gave the company a "neutral" rating in a report on Tuesday, October 31st. Three research analysts have rated the stock with a sell rating, four have issued a hold rating and five have assigned a buy rating to the stock. The stock currently has an average rating of "Hold" and an average price target of $63.00.
In related news, Director Patrick Alias sold 5,000 shares of the company's stock in a transaction dated Monday, November 27th. The stock was sold at an average price of $143.54, for a total value of $717,700.00. The transaction was disclosed in a legal filing with the Securities & Exchange Commission, which is accessible through
this hyperlink
. Corporate insiders own 5.60% of the company's stock.
TRADEMARK VIOLATION NOTICE: "Cognex Co. (CGNX) Plans $0.05 Quarterly Dividend" was first reported by American Banking News and is the sole property of of American Banking News. If you are accessing this news story on another site, it was illegally stolen and reposted in violation of US and international trademark and copyright laws. The original version of this news story can be viewed at https://www.americanbankingnews.com/2018/02/15/cognex-co-cgnx-plans-0-05-quarterly-dividend.html.
About Cognex
Cognex Corporation (Cognex) is a provider of machine vision products that capture and analyze visual information in order to automate tasks, primarily in manufacturing processes, where vision is required. The Company operates through the machine vision technology segment. The Company's machine vision products are used to automate the manufacture and tracking of discrete items, such as mobile phones, aspirin bottles and automobile tires, by locating, identifying, inspecting and measuring them during the manufacturing or distribution process.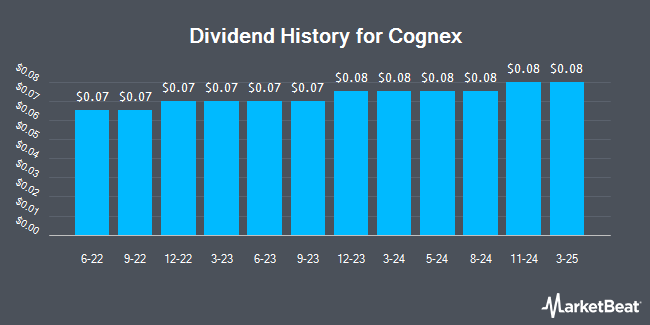 Receive News & Ratings for Cognex Daily - Enter your email address below to receive a concise daily summary of the latest news and analysts' ratings for Cognex and related companies with MarketBeat.com's FREE daily email newsletter.