HP (NYSE:HPQ) is set to issue its quarterly earnings data after the market closes on Thursday, February 22nd. Analysts expect the company to announce earnings of $0.42 per share for the quarter. HP has set its Q1 guidance at $0.40-0.43 EPS and its FY18 guidance at $1.75-1.85 EPS.
HP (NYSE:HPQ) last announced its quarterly earnings data on Tuesday, November 21st. The computer maker reported $0.44 earnings per share (EPS) for the quarter, hitting the Thomson Reuters' consensus estimate of $0.44. HP had a negative return on equity of 70.25% and a net margin of 4.85%. The firm had revenue of $13.93 billion for the quarter, compared to analysts' expectations of $13.36 billion. During the same period last year, the business posted $0.36 earnings per share. The firm's revenue for the quarter was up 11.3% on a year-over-year basis. On average, analysts expect HP to post $2 EPS for the current fiscal year and $2 EPS for the next fiscal year.
HP (NYSE:HPQ) opened at $21.29 on Thursday. HP has a one year low of $15.72 and a one year high of $24.10. The stock has a market capitalization of $35,030.00, a price-to-earnings ratio of 14.39, a P/E/G ratio of 2.14 and a beta of 1.76. The company has a debt-to-equity ratio of -1.98, a quick ratio of 0.74 and a current ratio of 1.00.
The company also recently disclosed a quarterly dividend, which will be paid on Wednesday, April 4th. Investors of record on Wednesday, March 14th will be paid a dividend of $0.1393 per share. This represents a $0.56 annualized dividend and a yield of 2.62%. The ex-dividend date is Tuesday, March 13th. HP's dividend payout ratio (DPR) is presently 37.84%.
HPQ has been the topic of several research analyst reports. Royal Bank of Canada raised their price objective on HP from $22.00 to $26.00 and gave the stock an "outperform" rating in a research note on Wednesday, October 18th. Maxim Group reiterated a "hold" rating and issued a $25.00 target price on shares of HP in a research note on Friday, October 27th. Wells Fargo & Co started coverage on HP in a research note on Tuesday, November 14th. They issued a "market perform" rating and a $21.00 target price on the stock. BMO Capital Markets raised their target price on HP to $23.00 and gave the company a "positive" rating in a research note on Wednesday, November 22nd. Finally, Deutsche Bank reiterated a "buy" rating and issued a $25.00 target price on shares of HP in a research note on Wednesday, November 22nd. One research analyst has rated the stock with a sell rating, fourteen have given a hold rating, nine have assigned a buy rating and one has given a strong buy rating to the company. The stock currently has a consensus rating of "Hold" and a consensus price target of $22.83.
In other news, COO Jon E. Flaxman sold 271,968 shares of the firm's stock in a transaction on Tuesday, November 28th. The stock was sold at an average price of $21.34, for a total transaction of $5,803,797.12. Following the transaction, the chief operating officer now directly owns 243,096 shares of the company's stock, valued at $5,187,668.64. The sale was disclosed in a filing with the Securities & Exchange Commission, which is available through the SEC website. Also, insider Enrique Lores sold 302,893 shares of the firm's stock in a transaction on Thursday, January 18th. The shares were sold at an average price of $23.31, for a total value of $7,060,435.83. Following the transaction, the insider now directly owns 88,901 shares in the company, valued at $2,072,282.31. The disclosure for this sale can be found here. Insiders have sold 902,988 shares of company stock worth $19,938,441 over the last three months. Corporate insiders own 0.62% of the company's stock.
COPYRIGHT VIOLATION WARNING: "HP (HPQ) Set to Announce Quarterly Earnings on Thursday" was originally reported by American Banking News and is the sole property of of American Banking News. If you are accessing this piece on another publication, it was copied illegally and republished in violation of U.S. & international trademark & copyright legislation. The original version of this piece can be read at https://www.americanbankingnews.com/2018/02/15/hp-hpq-set-to-announce-quarterly-earnings-on-thursday.html.
About HP
HP Inc is a provider of products, technologies, software, solutions and services to individual consumers, small- and medium-sized businesses, and enterprises, including customers in the government, health and education sectors. The Company provides personal computing and other access devices, imaging and printing products, and related technologies, solutions and services.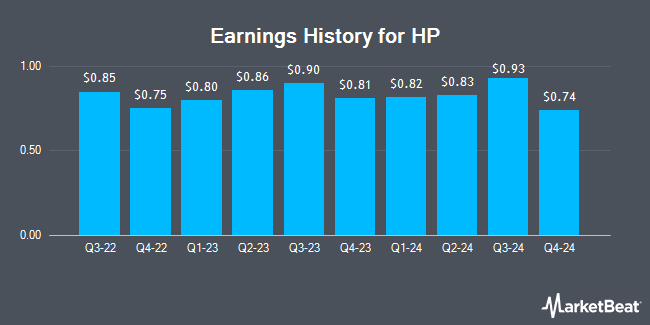 Receive News & Ratings for HP Daily - Enter your email address below to receive a concise daily summary of the latest news and analysts' ratings for HP and related companies with MarketBeat.com's FREE daily email newsletter.